We will go over the best electric scooters for climbing hills now, review their climbing angles and capabilities, and see what makes them great climbers.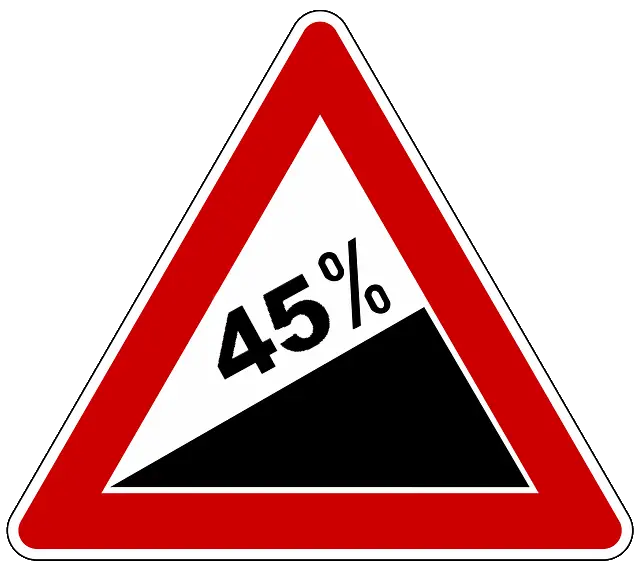 Best electric scooters for climbing hills
The ability to climb hills is one of the most important and sought-after features in an electric scooter. If you've never owned a scooter before, know that you will definitely want your scooter to climb well. If you've owned a scooter that's poor at climbing, you already know how frustrating that experience can be, especially if you live somewhere with a lot of hills.
To figure out which scooters are the best climbers, we need to look at the climb angles specified by their manufacturers, but at the same time, we want to know that the climb angle has been confirmed in independent user tests (otherwise, manufacturers can claim whatever they want, right?).
These are the best electric scooters for climbing hills.
Best electric scooter for climbing hills – Dualtron X2
The manufacturer of Dualtron X2 claims a very strong climb angle of 35 degrees, and that climb angle has been confirmed in tests by owners. That probably makes the Dualtron X2 the best climbing electric scooter in the world.
The Dualtron X2 costs $6490, and the price is more than justified. Among other world records, the Dualtron X2 has the most powerful motors in the world, packing an astonishing 8300 Watts of power. With that kind of power, I believe that this scooter can climb even better than claimed, and the climb angle of 35 degrees may even be underreported a little.
The Dualtron X2 weighs more than 143 lbs / 65 kg, and that may be one of the reasons why the manufacturer doesn't claim angles higher than 40 degrees. Its great mass provides it with better stability and robustness, but hill climbing will suffer because of that.
Anyway, an angle of 35 degrees is still very impressive, and I believe this scooter is easily capable of more. You can see my complete Dualtron X2 review if you wish to find out more.
For many scooter lovers, the Dualtron X2 is the best electric scooter in the world in all categories. Even if you don't agree fully with that statement, the Dualtron X2 must get recognition – it is a mighty machine, and hills will not be a challenge.
The Dualtron Thunder (full review here) also has a climbing angle of 35 degrees, but it costs almost half of what the Dualtron X2 costs.
Other Dualtron models, like the Dualtron Ultra, the Dualtron Raptor, and the Dualtron 2, have a climbing range of 30 degrees, while the Dualtron Compact, Dualtron Spider and the Dualtron 3 have climbing angles of 25 degrees.
Best electric scooter for climbing hills under $2000 – Apollo Pro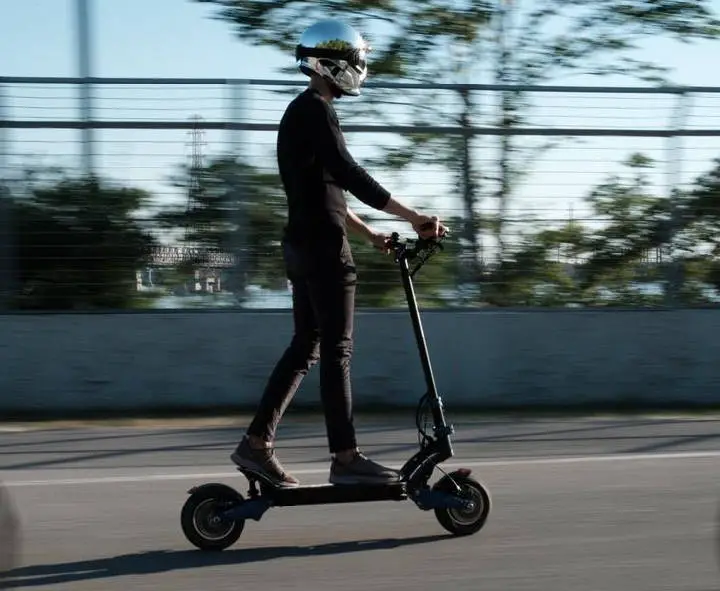 Apollo is one of the most exciting relatively new electric scooter brands, and they are making huge splashes in the scooter world right now.
Their most powerful scooter, the Apollo Pro, comes in two different flavors, the regular and the Ludicrous version, and both versions have a climb angle of 40 degrees. This climb angle seems to have been confirmed in a few user reports online.
The exact specs will vary based on the scooter version you choose, as there are both 52V and 60V versions, and you can also choose between regular and fully hydraulic brakes, plus the Ludicrous version as the truly ludicrously powerful choice. In any case, both the 60V and the Ludicrous versions will have the claimed great climb angle, and the 52V version will not be too far behind.
The 60V and the Ludicrous versions are powered by dual 1200-Watt motors, with a combined power of 2400 Watts (3600 Watts peak). This is a seriously powerful scooter that you can find for a pretty good price, $2299 for the regular version, and $3299 for the Ludicrous version.
If your budget is under $2000 and you want the best possible climbing scooter that you can get, simply get the Apollo Pro 52V version. It will have the same awesome climb angle as the other models with the bigger batteries, and it will cost around $1800.
Best electric scooter for climbing hills under $1500 – Kugoo G-Booster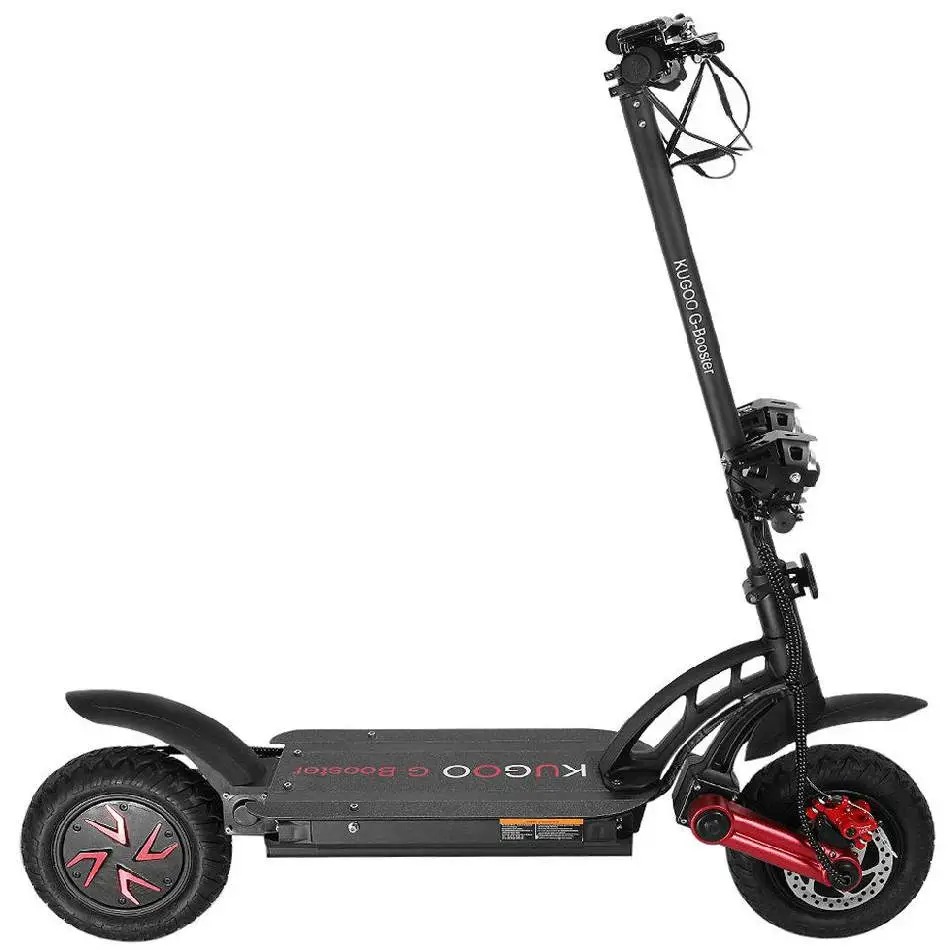 This is one of the best climbers in the world right now, and it costs surprisingly little.
For a price of $1279, which is dirt cheap compared to the other top climbers described here, you will get a very solid, well-crafted scooter with 1600 Watts of power packed in its motor.
It is pretty obvious that Kugoo aimed to make this scooter especially good at climbing. Their other models mostly have angles of about 15 degrees.
But the Kugoo G-Booster is a different story. See the full review of the Kugoo G-Booster to understand exactly why.
Most electric scooters lack rigorous hill climb testing. There is good footage of the Kugoo G-Booster swallowing up a pretty steep slope with ease around the 4 minute 45 second mark in the video below.
Best electric scooter for climbing hills under $1000 – Apollo City
The best electric scooter under $1000 that will take you across hills and valleys will be the Apollo City.
Priced at $999, it comes with a solid 800 Watt motor, and can handle slopes of up to 15 degrees. While there are a few other $1000 scooters that claim this climb angle, the Apollo City has user tests confirming this angle.
Apollo makes excellent climbers and has a few more entries in this list, like the Apollo Pro above. Since very few scooters under $1000 will handle slopes as well as the more powerful scooters, I suggest choosing one of the better performing scooters if hills are a big part of your commute, and the more powerful Apollo scooters are a great choice here. You may have to add a few extra hundreds to your budget, but I believe it will be a worthwhile investment.
Anyway, as with all Apollo scooters, the Apollo City is a solid climbing scooter, and probably the best one you can get for under $1000. The climb angle of 15 degrees, while formidable, is not that astonishing, but it is confirmed at least. You can check out my complete Apollo City review if you are curious about this scooter.
Best electric scooter for climbing hills under $500 – GoTrax G4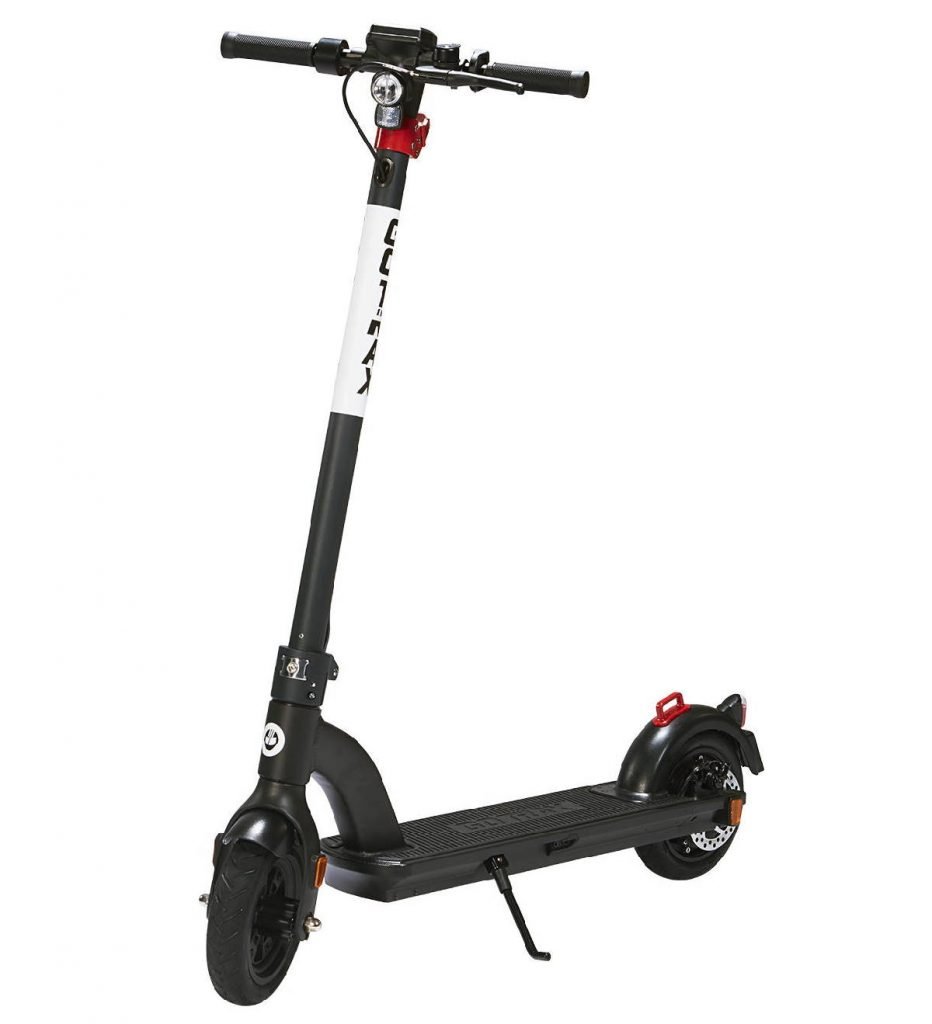 As we move down the price range, we are slowly exiting the category of amazing climbers. Also, the number of scooters that have their climb angles confirmed by owners becomes smaller. Luckily, we have the GoTrax G4 here.
For the price of $499, the GoTrax G4 can handle slopes of 15 degrees. That's as good as it gets, pretty much every other scooter in this price range has less than that, and that already means that many hills can be troublesome.
GoTrax produces and sells a lot of good budget scooters, and the G4 is one of their latest models. Of course, you can't expect performances as the top climbers, and a 350 Watt motor can only climb so much.
But 15 degrees is still something to be respected in this category. If you're on a budget and you still need as much climbing power as you can get, the GoTrax G4 is your choice. If you want to find out more, see my complete GoTrax G4 review.
Best electric scooter for climbing hills under $300 – GoTrax GXL V2 Commuter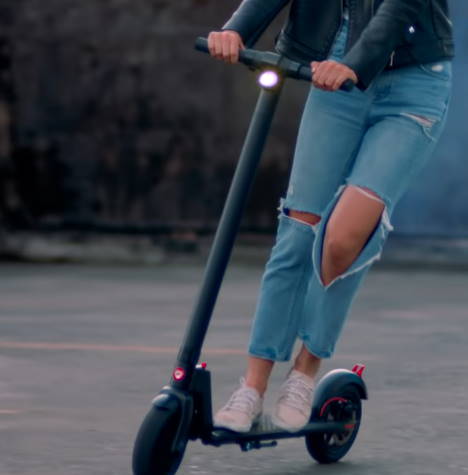 The GoTrax GXL V2 Commuter can climb slopes of 14 degrees, and it costs just $269. And what's even better, this scooter has established a great reputation so far and this climb angle has been confirmed in lots of user tests, so we can safely say it's the best climbing scooter for under $300.
While only a budget scooter with a motor of 250 Watts, it's still the best climber you can get for that amount. Every other scooter around or below $300 will have a hill climb angle of 10 degrees or less. Be aware that any scooter with 10 degrees or below will likely struggle on every type of hill.
So if you're really really on a budget and you need all the climbing power you can get, go for the GoTrax GXL V2 Commuter. Given the price, you really get a great angle.
If you are curious to find out more about one of the best budget scooters of all time, check the full GoTrax GXL V2 Commuter review.
Zero 11X climb angle
Zero may be the most serious challenger for the title of best electric scooter manufacturer. The way things are going, I personally believe they will produce scooters that will surpass the most expensive scooters in many parameters, and overall quality in general, while maintaining a more competitive price.
Their current best scooter, the Zero 11X, can climb slopes of up to 35 degrees. Priced at $3499, it has a motor with 3200 Watts and it is no wonder that hills are not a problem at all.
Other Zero models, like the Zero 10X, the Zero 10, the Zero 8X, the Zero 9, and the Zero 8, all claim the same climbing angle, 35 degrees.
The best part about these models? We can see real-world proof of them achieving this.
Here's a really cool video showing how the Zero 10X handles a 30-degree slope from a cold start at the very start of the slope, with no previous acceleration at all!
Techlife X9 climb angle
Techlife is a truly versatile scooter brand, with scooters for all price ranges and power levels. The Techlife scooters are very similar to Zero, and they are very likely just a whitelabel for the same brand of scooters but made more accessible to the European market.
The most powerful Techlife scooter, the Techlife X9 (full review here), while being a real powerhouse with a 3200 Watts motor, is also a great scooter for going uphill. It can take care of hills that are 35 degrees steep without any problems.
And Techlife X9 gets huge bonus points here since there is actually proof that it can achieve this.
Here's Adam from WrongWay demonstrating the capabilities of the Techlife X9. Around the 2 minute 48 second mark, he does an uphill test on what seems to be a 30-ish degree slope.
The Techlife X9 doesn't even notice it's not a flat road. Brilliant.
The X9 is the only true climber from the Techlife X series. The Techlife L5T and the Techlife L5 can climb up to 25 degrees, while the rest of the Techlife models can climb slopes of 15 degrees.
NanRobot RS/LS climb angle
The NanRobot LS and RS series have the best climbing angle in theory. However, these climb angles are extremely steep and still not proven by user tests.
The NanRobot brand claims that 5 of its scooters are able to climb slopes of 65 degrees:
NanRobot RS7
NanRobot RS11
NanRobot RS6
NanRobot RS4
Sadly, these are only the slopes reported by the manufacturer. There were no angles reported from user tests to be found anywhere.
I like the NanRobot brand quite a lot… but… a 65 degrees steep hill… that is very, very steep… and I mean very steep!
Here's a visual representation of a 65-degree angle.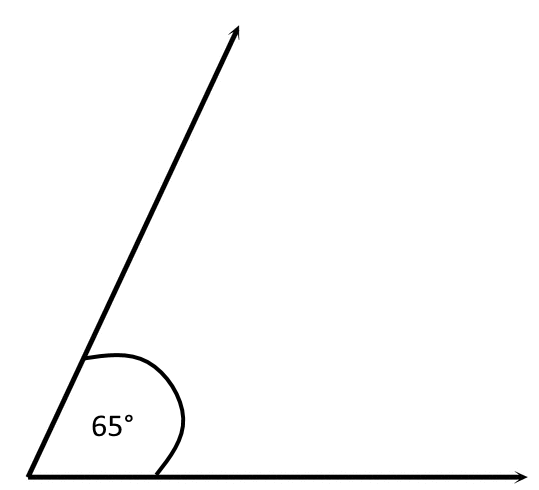 I really doubt that any vehicle today can climb a slope of 65 degrees. It is just too much.
Also, these scooters are true heavyweights, every one of them being 40 kilograms at the least!
Sorry NanRobot, I love your scooters, but I'll have to see this one to believe it.
I suspect that NanRobot may have actually made a typo here (whether on purpose or not we can't know), and reported the slope in degrees, but they've actually meant percentages.
A 65% slope is about 33 degrees, which is very realistic for a scooter this powerful. But their specs clearly show the degree (°) mark.
This guide will be updated if new information comes to light.
There are many general performance tests done by reviewers on many of these NanRobot models. They all unanimously agree that the NanRobot scooters can conquer literally any hill or slope they've tried them on, without any effort. But the ridiculous climb angles that are claimed by the manufacturers remain unconfirmed.
Rion climb angle
The Rion is one of the fastest scooters in existence, if not the fastest. It is one of the few real racing scooters, built primarily for speed. Because of that, it has both a crazy powerful motor, and it's made primarily out of carbon fiber, making it very light as well. Those two factors also help it climb hills very easily.
With a motor power of 6700 Watts, it is the most powerful scooter on this list. We already know that powerful motors, while providing great speeds, also give a lot of climbing angle.
As reported from the company, it can handle hills of up to 45 degrees.
There is no footage of someone actually trying to climb hills this steep, but this is a video proving that it can really eat up slopes as they are a joke. The video here shows us a ride through the city of San Francisco, which is famous for its many hills and valleys, and the Rion has no issue with that.
There's no doubt about it – the Rion is one of the best, fastest, most powerful, most beautiful electric scooters today. Its cost of $5700 may make it above the price range for everyone except the most passionate of riders, but for them, it will be money well spent.
While the climb angles are not confirmed at this time, I'm confident the Rion can actually climb hills of 45 degrees.
Electric scooter climb angles
Let's see all the data. These are all the electric scooter models currently that have the maximum slope angle they can climb specified by the manufacturer.
The scooters that don't have this value specified by their manufacturers are not included in this list.
The climb angles are expressed in degrees.
We can see a lot of interesting things in here.
With the data at hand, let's answer all the most burning questions about electric scooters and climbing.
What is a good hill climb angle for an electric scooter?
The data in the table above may give you a somewhat skewed idea about what is a good slope angle.
We have the NanRobot models claiming to be able to cross hills of 65 degrees, and other scooters claiming 35 degrees or higher.
However, you will rarely encounter slopes steeper than 30 degrees.
Just to give you an idea, here's what a 30 degree slope looks like.
Slopes this steep are only common in few cities, or in very few parts of a city.
Meaning, if your scooter has a climb angle of 35 degrees, it can already handle almost every slope out there.
By this definition, any scooter that has a climb angle higher than 35 degrees is a great climbing scooter. With the handful of models that claim to have climb angles of 35 degrees or above, you will likely have absolutely no issue going uphill 99% of the time.
It's also safe to say that any scooter that has a climb angle below 10 degrees will likely cause you trouble on many hills.
Can electric scooters go uphill?
We can finally provide a data-driven answer to one of the most burning questions in the electric scooter community.
As we can see from the table, the majority of modern electric scooters can handle the majority of slight to moderate hills.
At the same time, the majority of the common scooters will struggle with the steeper hills.
There will be a lot of factors when it comes to climbing. The power of the motor will be the dominant factor, but its battery, its weight and the weight it is able to carry will also be very important. Scooters with dual motors will have much better traction, which is also very important for climbing.
There are also a few things you can do to try and improve the climbing performances. These are the most useful tips you can apply to try and increase that:
ride with as fully charged battery as possible
add an extra battery if possible
reduce the load that the scooter carries
gain acceleration and momentum before going uphill
Other lesser factors that will affect the type of angle you get from your scooter will be:
whether your scooter has suspenders, and how good they are
the type of tires, with wider or off-road tires making it climb better
the technique and the stance of the rider, especially for scooters that struggle
Check out our detailed guide about how well can electric scooters go uphill, as well as detailed instructions on how to improve performance when going uphill.
Electric scooter motor power and climbing angle
As we can see from the table, there is a quite strong correlation between a scooter's power in its motor, and the climb angle it is able to achieve. The number of the motors is also directly related to that as well, as two motors will always provide more torque and better climb angles.
There are some exceptions to this though. Some scooters have very powerful motors, but they are either too heavy or have batteries with very small voltages, that prevent the scooters to fully utilize their motors and climb easily.
Also, there are some scooters that can achieve greater angles than what their motors would suggest. More often than not, they will tend to be light in weight and their battery voltage will be almost the same as the motor voltage.
So, while there is a strong link between motor power and climbing ability, it's not the only factor.
Manufacturer-reported and user-reported hill angles
Many of the manufacturers of electric scooters will include an approximation to how steep a hill can the scooter climb, expressed in degrees.
Typically, the more expensive and more powerful scooters will tend to have this number specified. Lower end scooters with less power will not be very proud of their hill climb angles, and not reporting that number will create a better image for the model.
Still, even when the degrees are reported, we should keep in mind that the numbers that the manufacturers put out are obtained under lab settings. The scooters are likely brand new, and their batteries will usually be full since that always gives the scooter a little more degrees. Also, the rider either has an average weight or sometimes a bit lower, and there's no extra load on the scooter.
So while useful, these numbers will not always represent how your scooter will behave in real-world hills.
That's why angles obtained through user testing, reported by owners that have had and used the scooter for a while in the real world, will usually be more accurate representations of the scooter's hill climbing abilities.
However, there are two big problems with user-reported climb angles.
First, they can also be very inaccurate, probably even more so than the numbers from the manufacturers. Many people will try and test the uphill capabilities of the scooter, but we can't be sure with how much rigor they will test it.
Second, these measurements are quite rare. Many reviewers skip trying to measure this. Only the most popular scooters have reviewers trying to measure and report this number.
That means we're stuck with the numbers provided by the manufacturers in a lot of cases. Which is a lot better than nothing, but still relatively little information.
Average climbing angle of electric scooters
A common number thrown around is 23.4 degrees as the average of the climbing angle of electric scooters.
I'm not sure how that number was obtained.
All I can say is that, out of around 230 different scooter models, only 142 have hill climb angles reported by their manufacturers.
The average climbing angle accross all electric scooters is 21.88 degrees.
Those values are pretty close, and the difference may be largely because of different methodologies.
The answer is around here somewhere – the average climb angle of electric scooters is between 20 and 25 degrees.
Measuring slopes – degrees vs percentages
A slope can be measured either in degrees (°) or percentages (%).
Both are frequently used, but degrees is a more official unit.
Keep this in mind when looking at the climbing capabilities of a scooter.
If you need to compare two scooters that have their maximum angles expressed in different units, you can convert one into the other. The formulas are very simple.
Degrees = Tan-1 (Slope Percent/100)

Formula for calculating the degrees of the slope from the percentage
Slope Percent = Tan (Slope Degrees) * 100%

Formula for calculating the percentage of slope from the degrees
Here are the angle calculators you will need to do the conversion.
Summary
Those were all the best electric scooters for climbing and hilly areas. The following table summarizes the best climbing scooters.
---
---