A great suspension system in an electric scooter can make the difference between a smooth comfortable ride, and an unbearable one. All other things being equal, an electric scooter with suspension will be a much better choice than a scooter without suspension. Let's go over the best electric scooter models with suspension, and when would each be an ideal choice.
Best electric scooters with suspension
Best electric scooter with suspension for commuting – EMove Touring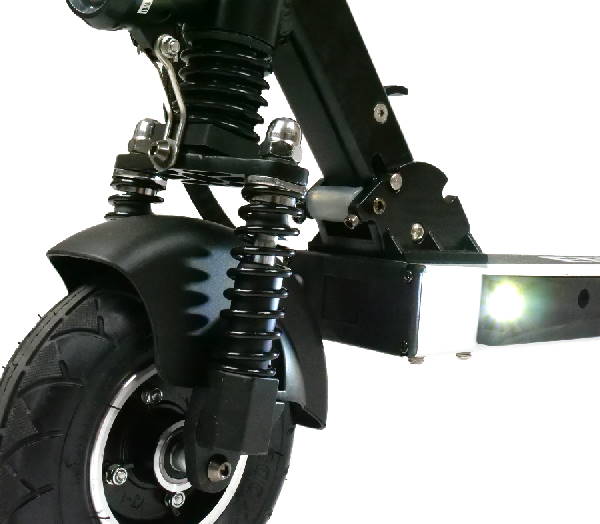 The EMove Touring will be the best choice for an electric scooter with suspension for the vast majority of regular scooterists and commuters out there.
Are there other scooters with better suspension systems? Yes. However, all of them will cost thousands of dollars. And even then, some of them will not have suspensions much better than the one of the EMove Touring.
In fact, the suspension of the EMove Touring punches way above its weight, and for a price of $899, you will get a triple suspension system! Simply put, this is a great scooter, with excellent suspension, that a lot of people can easily afford.
The triple suspension system consists of:
front dual-spring suspension
front suspension between the stem and the wheel
dual rear suspension
The ride comfort and quality you get for the price will be unrivaled. Besides the great suspension, the EMove Touring has very good performance in general – a range of 25 mi / 40 km, a top speed of 24 mph / 38 kmh, a brushless DC 500-Watt motor with a peak power of 750 Watts, great climbing abilities, and a weight capacity of 330 lbs / 150 kg.
The 13 Ah LG battery is of the highest quality as usual, and the scooter comes with a redundant braking system, with an electronic and a drum brake in the rear. Both the frame and the handlebars are foldable, which makes this scooter one of the best commuters ever, with great range, minimal volume when folded, and light weight.
All of that in a neat portable package weighing just 39 lbs / 17 kg, which is almost unheard of for a scooter this performant.
If you are looking for a simply great regular commuting scooter that will not cause you to go bankrupt, then the EMove Touring will be your perfect pick. The world-renowned Voromotors team will make sure you get stellar support throughout the entire process.
See the complete EMove Touring review if you're interested in this scooter.
Electric scooter with the best suspension – Dualtron X2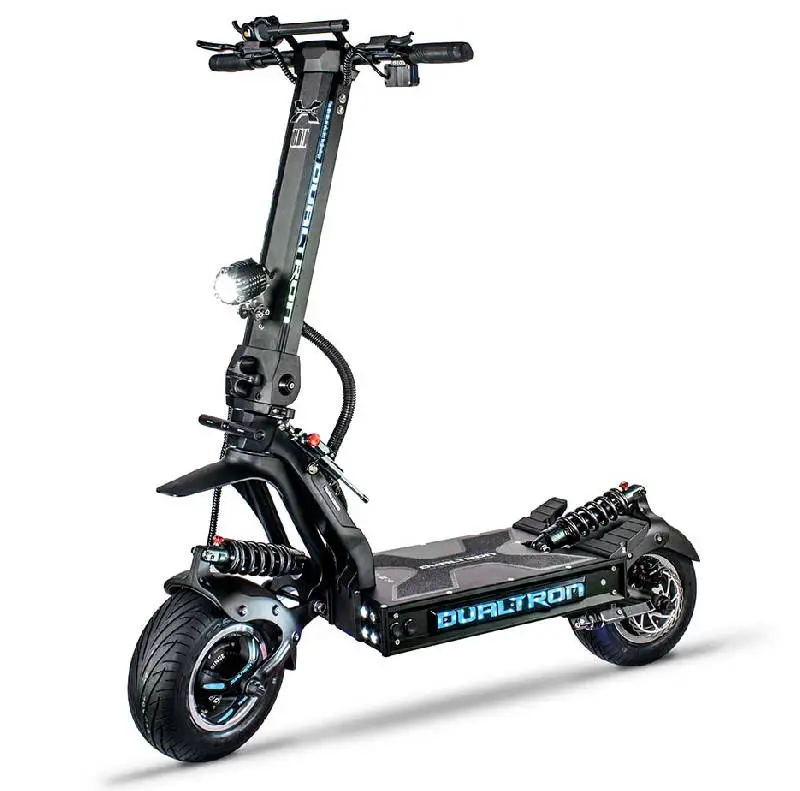 It is no surprise that one of the best electric scooters overall, the Dualtron X2, also comes with the best suspension system as well.
The suspension of the Dualtron X2 is adjustable, meaning you can regulate how much shock absorption you need. Turning the adjustment ring lets you do this for both the front and the rear wheel. Very few scooters come with this option.
The Dualtron X2 has a proprietary hydraulic suspension, one of the latest suspension systems for electric scooters out there, far superior to your average run-of-the-mill spring suspenders.
Aside from the suspension, the Dualtron holds a few important records in the electric scooter world. For the price of $6490, it is one of the most expensive electric scooters ever. You can be assured, however, that you will be getting what is very likely the best electric scooter made to this day.
Still, for many of us, that may be too much for an electric scooter ever. If you are curious about it, check out my Dualtron X2 review.
Best electric scooter with suspension under $1000 – Turbowheel Dart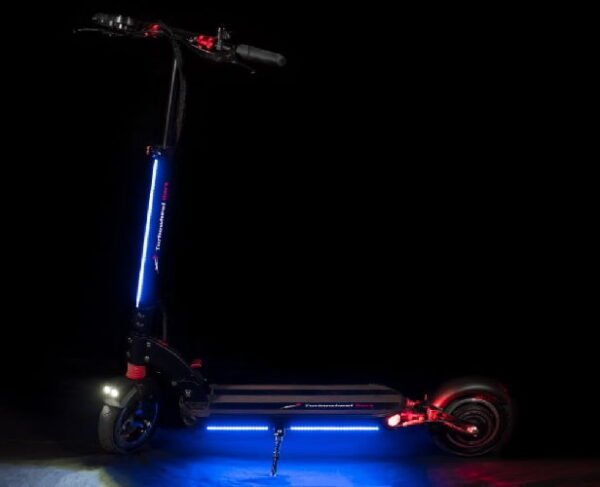 For many people, the price limit they would consider paying for an electric scooter is $1000.
If your budget is around there somewhere, and you need an electric scooter with both solid shock absorption and performance capacities to fill your everyday needs, I suggest you take a look at the Turbowheel Dart.
For the price of $998, the Turbowheel Dart is a cool performing scooter with both front and rear wheel suspension. This scooter is on the brink of being off-road, with suspension that is right behind the best ones out there.
Best electric scooter with suspension under $700 – Ninebot ES2
The Ninebot ES2 is one of the best selling electric scooters of all time, and the primary reason for that is because it's a very good deal. For a relatively cheap price, you get a versatile scooter designed for the everyday user.
The proof that this scooter will not fail you is literally hundreds of thousands of satisfied customers worldwide. In addition, the fact that both Bird and Lime both heavily depend on this scooter in their fleets proves it's worth even more.
The Ninebot ES2 needs good suspension probably more than any other scooter on this list. It comes with fully solid silicon tires that don't provide much shock absorption on their own. Without suspension, the rides would be pretty shaky.
The suspension is as good as you can expect in an inexpensive scooter, with spring suspension on both front and rear wheels. It will mitigate the impact with small bumps and provide some relief in the most common scenarios.
Best electric scooter with suspension under $500 – Kugoo M2 Pro
You can find scooters with solid shock absorption even in the budget category.
The Kugoo M2 Pro is the best of them. Naturally, for the price of $499, you will not be getting the best suspension out there, but considered the price it will still be pretty good. What's most important, it will have an effect and will provide additional cushioning.
Both the front and the rear wheel have a single spring suspension. They will provide some relief on the uneven roads and surfaces, and together with the pneumatic tires, the ride will be not too shabby at all.
Best solid-tire electric scooter with suspension – Mercane Widewheel Pro
The Mercane Widewheel Pro is arguably the best electric scooter with solid tires, or the most iconic one at the least.
Naturally, as all good solid-tire scooters, it will come with a great suspension, with spring and arm systems on both the front and the rear wheel.
This celebrated Bat-scooter will come with 26 mph / 42 kmh top speed, a range of 22 mi / 35 km, dual 500-Watt motors with a combined peak power of 1600 Watts, with all the perks that solid wide wheels bring – improved balance, super-cool look, and no flats ever.
You can see the full Mercane Widewheel Pro review if you want to discover more about this scooter.
Best electric scooter with suspension for climbing – FFR Mantis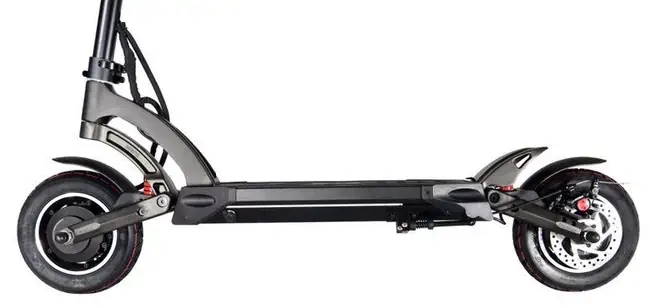 Like a true Mantis, this scooter can jump over hills with ease. With an incredible climb angle of 35 degrees, this is one of the best climbing scooters ever, and certainly one of the best climbers with excellent suspension as well.
Equipped with dual front and rear swing arm suspension systems, the FFR Mantis provides one of the most comfortable, safe, pleasurable rides out of all electric scooters today.
Packing two 1000-Watt motors in each wheel, the scooter has amazing raw power and traction, which is what makes it a great climber. On top of that, you get a top speed of 40 mph / 63 kmh, a range of 45 mi / 72 km with the LG or Samsung batteries, and full hydraulic brakes in the PRO version.
An excellent scooter overall, certainly the best choice if you live in a hilly area. Check out my complete Kaabo Mantis Pro review if you want to find out more about this great scooter.
Best long range electric scooter with suspension – Zero 11X
For me, one of the most important in a scooter is a great range. If you take a long range scooter that also has a great suspension system, that scooter will provide you with peace of mind like no other, The rides will be long, safe, smooth, and comfortable.
Those words perfectly describe the Zero 11X. It is one of the longest range electric scooters today. In fact, if you don't want to spend piles of money on an electric scooter, it is the best long range electric scooter. It can go as much as 145 kilometers on a single charge!
The Zero 11X has a hard single-spring hydraulic suspension on the front wheel, and a rear air suspension, perfect for faster rides. Coupled with the off-road pneumatic tires, you can be confident that you will not feel a bump on those long rides.
Many scooters compete for the title of the most powerful scooter out there. It is a very sought after title, but the Zero 11X has a serious claim to it. For the price of $3499, this rocket ship will provide you with some of the best specs out there, and also a starling shock absorption system.
Best off-road electric scooter with suspension – Kaabo Wolf Warrior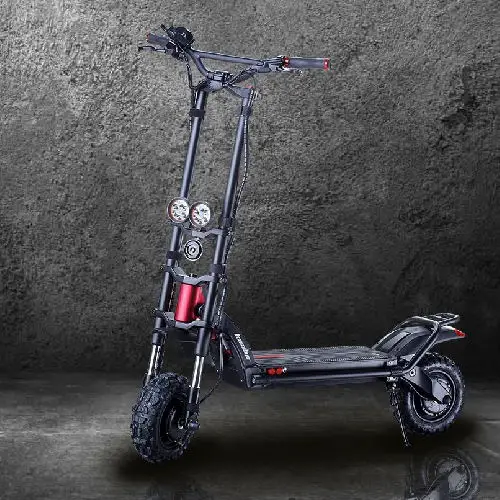 Every electric scooter that describes itself as off-road, and is worth its salt, will have a great shock absorption system. In fact, the biggest challenge when riding off-road is shock absorption. It's almost by definition that off-road scooters should have great shock absorption.
But the Kaabo Wolf Warrior is at a whole other level.
One of the original off-road bad boys, this scooter has proven itself time and time again as one of the best scooters that can take a punch.
The deck is quite high above the ground, higher than most scooters, and that is already good news. The dual hydraulic shock absorbers on the front wheel, and the dual spring suspenders on the rear, are the best in the world of electric scooters. The shock absorbers are so great that you will probably not feel the sidewalk, let alone small bumps in the road.
Naturally, this suspension system will come at a price, as the Kaabo Wolf Warrior costs $3195. Quite expensive, but not so much when you consider it is likely the best off-road scooter, and also has a brilliant suspension system coming with it. Check out my review of the Kaabo Wolf Warrior if you're interested in this scooter.
Best electric scooter with suspension for heavy adults- Qiewa Q Power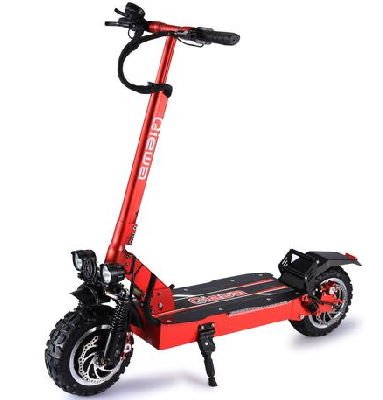 Qiewa builds some truly high-performing scooters. All of its models have an extra emphasis on carrying heavy loads.
Qiewa's champion and flagship model, the Qiewa Q Power, can carry as much as 300 kilograms on its deck. That makes it the record holder in the category of electric scooters for heavy adults.
The Qiewa Q Power is one of the rare combinations of a great carrying scooter with awesome suspension systems, that will also not cost you an arm and a leg. With front spring and rear hydraulic suspension systems, it also fits into the off-road category.
Qiewa is simply one of those brands that you gotta love. They offer truly powerful machines, with specs to match the best ones out there, but they only charge about half what those scooters would cost. For $2099, the Qiewa Q Power is a fascinating scooter overall, and the suspension system is only one of its many great features.
Best fast electric scooter with suspension – Dualped Scorpion+
Many electric scooter brands describe their scooters as the "fastest" today. There are a few brands that even claim their scooters can go as fast as 130 kmh, or even 160 kmh for some racing models. But there is one thing they are lacking for claiming the title – proof!
Also, a lot of these models are primarily racing models, not really intended for much other than going fast on long, straight, flat roads.
That makes Dualped Scorpion+ the fastest general purpose electric scooter that can actually prove its claims. It has been recorded reaching breakneck speeds of 104 kmh!
The Dualped Scorpion+ comes with front air suspension and rear dual spring suspension systems, making it the fastest electric scooter with suspension right now.
Specifications:
top speed: 104 kmh
range: 120 km
power: 6000 W (peak)
battery: 2310 Wh, 60 V
charge time: 7.5 h
climb angle: 50 degrees
weight: 47 kg
weight limit: 150 kg
price: $3150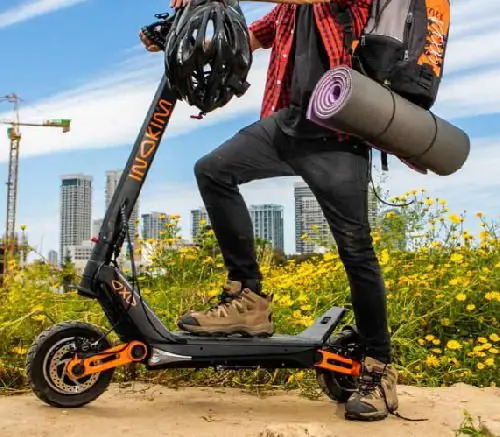 Inokim offers some of the highest-quality electric scooters ever made. They are the n. 1 premium scooter brand in my opinion, as their scooters don't necessarily have the best stats on paper, but they excel in craftsmanship, attention to detail, and finishing touches.
The results are often high-end luxury scooters, with some of the lowest defect rates in the game, and some of the longest lifespans, too.
The Inokim OXO is the best scooter in the Inokim series, and the quality of its suspension is just out of this world.
Now, people often get the impression that Inokim scooters are underpowered for the price, but that's certainly not the case for the Inokim OXO. With a range of 68 mi / 110 km, the OXO is one of the handful of scooters with a range over 60 mi / 100 km. The top speed of 40 mph / 65 kmh may not make it on-par with the other most powerful scooters out there, but it's certainly more than enough for me and 99% of other scooterists as well.
The Inokim OXO is possibly the highest-quality scooter ever made. You can see the full review of it here if you want to find out more.
Best value electric scooter with suspension – Kugoo G-Booster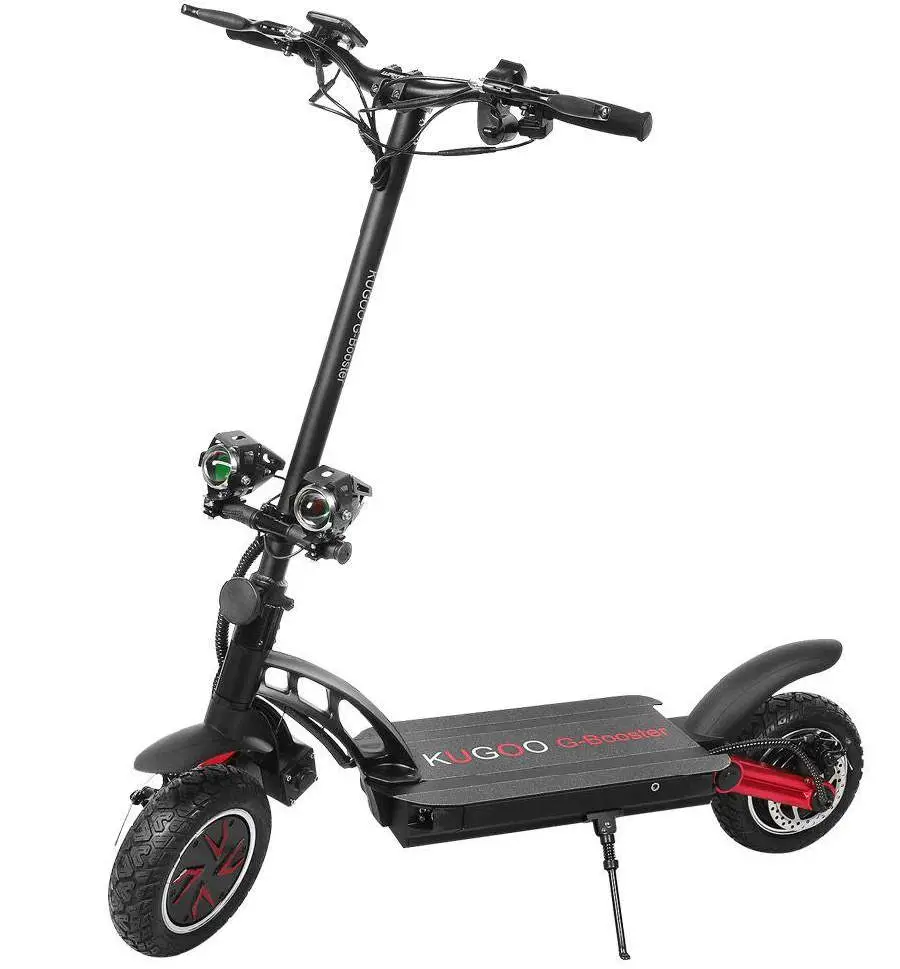 When it comes to bang-for-buck, few brands can compete with Kugoo. Their scooters often offer very solid performance overall, formidable quality and durability, long ranges and high top speeds, and often cost half or less than what you would expect a scooter with those specs to cost.
The Kugoo G-Booster is one of their most powerful scooters. With dual motors, combined 1200 Watts real and 2400 Watts peak power, 34 mph / 55 kmh top speeds and 53 mi / 85 km of range, an excellent climb angle of around 35 degrees, and 10-inch pneumatic offroad tires, the Kugoo G-Booster has it all.
As all good offroad scooters, the G-Booster has great suspension – arm systems on both the front and the rear wheel will work in concert with the big air-filled tires and make sure you don't feel a bump.
I don't think you can ask for more value from a scooter, it will usually cost somewhere around $1095. You can find out more about this very exciting scooter in the complete Kugoo G-Booster review.
Honorable mention – NanRobot D5+
As I have mentioned a few times on this blog, this is one of my favorite electric scooters ever. I believe it offers great value per dollar, all things considered.
The NanRobot D5+, however, doesn't have the best suspension system out there. It is pretty solid compared to other models, and especially so in its own price range, but it can still get much better.
It comes with a front spring suspension and a rear air suspension. They do a pretty good job of making a ride smooth, and since the scooter already has pneumatic tires, the ride is almost never bumpy.
Trying to go off-road, or on particularly bad roads, will quickly let you know why its suspension can't be considered world-class. It is good enough for your regular bumps and obstacles, but it doesn't handle bigger challenges that smoothly.
In any case, the NanRobot D5+ is still one of the best value for money scooters. The superior performance you get for a middle-range price is still unmatched in the electric scooter market. If you are a value shopper (like me), and you want a generally awesome scooter with suspension, you should consider the NanRobot D5+. You can find the NanRobot D5+ at Amazon UK.
Specifications:
top speed: 64 kmh
range: 80 km
power: 2000 W (peak)
battery: 1352 Wh, 52 V
charge time: 10 h
climb angle: 40 degrees
weight: 30 kg
weight limit: 150 kg
IP standard: IP53
price: $1380
Should I get an electric scooter with suspension?
If possible, choose an electric scooter with suspension over one without it. Avoid buying a solid-tire scooter without suspension. Even the most basic suspension system will make your rides much more comfortable, but it will also increase the safety of the scooter because of the added stability, and increase its lifespan because of less shock damage.
Some scooters will have big pneumatic tires that will act as suspension, and that's the primary reason why many pneumatic tire scooters don't have suspension. Solid-tire scooters, on the other hand, almost always have at least some form of suspension, because otherwise the ride quality would be very poor.
Electric scooters have come a long way in terms of increasing the comfort of their rides. Even the average scooter today provides a ride without vibration and shaking for the most part. But they are still not perfect.
Unstable rides are even a bigger problem in scooters with solid wheels. Since their wheels are hard and have no shock-absorbing qualities of their own, they usually have to depend on additional shock-absorbing systems.
In any case, the stability and comfort of the ride are greatly improved when a scooter has suspension. There are two very common scenarios when a model with great suspension is the ideal choice:
you are not satisfied with the current stability of your rides
the city you live and ride in has bad infrastructure, potholes, and cracks in the streets, or other uneven surfaces
If you fall into one of those, the electric scooter you are looking for will need to have great shock absorbing features.
Suspension vs shock absorber
These terms are often used interchangeably, but they are not exactly the same. The simplest way to explain the difference is that suspension springs are just one part of a shock-absorbing system.
Suspension is short for suspension spring, and it is one of the two main components in the shock-absorbing system. Together with a dampener component, they work in a synchronized way to dissipate the impact of the shock.
Can I add suspension to my electric scooter?
In theory, there is no reason why you shouldn't be able to customize your scooter in any way you like. Adding suspension if your scooter lacks it is no different.
Most of the time though, it won't be that easy.
First of all, you will need to either have a bit of know-how, or take your scooter to someone who has. The installation process, when feasible, is not very difficult, but it still requires some technical knowledge.
Second and more important, the possibility of adding suspension will depend on the scooter's popularity, and the availability of parts that are made exactly for your scooter model. Keep in mind that only a handful of popular scooters will have reliable and tested parts that you can add without worrying they will fall apart after 20 kilometers.
Here's a great example – one of the most popular scooters ever, the Xiaomi M365 Pro, will naturally have a host of spare parts and customizations that you can easily get online. It doesn't come with a built-in suspension system, and many owners feel like it needs one, so they add it themselves. This is a video of installing the suspension system on the front wheel of a Xiaomi M365 Pro:
Summary
Those were all the best electric scooters with suspension, for every budget and scenario. The table below summarizes the best models.
---
---