When it comes to electric scooters, few things can make your palms sweat as the fastest electric scooters.
As the popularity of electric scooters has skyrocketed, so have the maximum speeds they can reach. Some of them can reach truly unbelievable speeds, effectively ending the days when electric scooters were viewed as cute toys.
Best fast electric scooters for every budget and use case
If you're looking for a true mean machine, you will find it here. Let's go over the fastest electric scooters available today, and when might each make sense for you, your scenario, and your budget. Hold on to your handlebars you daredevils, this will be a wild ride!
Fastest electric scooter (proven top speed) – Dualtron X
75 mph / 121 kmh is likely the fastest speed that an electric kick scooter has reached, and it may be the current world record (the Guinness website has nothing on electric kick scooters).
Here's a video of a custom-made Dualtron X reaching speeds of 75 mph / 121 kmh! (Btw, wow!)
Geez! Going that fast with a car even seems fast…
The scooters and the people brave enough to ride them at those speeds are both awesome. Needless to say, those kinds of speeds go a little bit outside the range of interest of most scooterists.
It seems like scooters are coming at the point where the high speeds are no longer a motor issue or a battery issue – they are a rider issue. Only a few people will dare to ride them at such speeds.
Even just watching this video made me grab onto the table, and my palms started sweating a little.
If you love a challenge, you can check out my full Dualtron X2 review.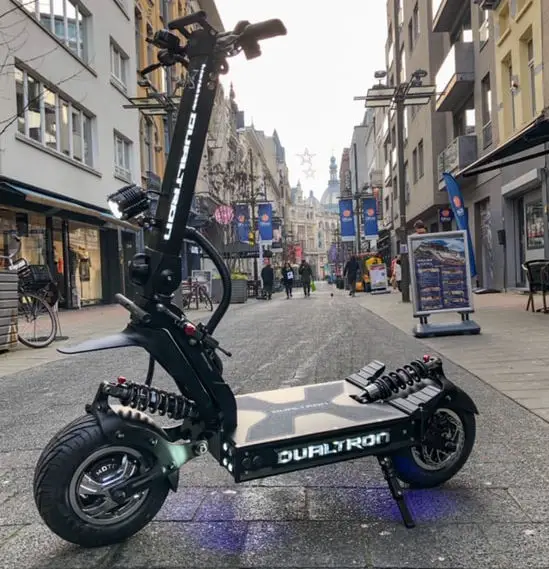 The Dualtron X is almost a legend among electric scooters. It is the most performant scooter in existence today.
The advertised maximum speed is 62 mph / 100 kmh. That is with the speed limiter in place to help prolong the life of the scooter. But as we saw in the video above, when customized for full speed, the Dualtron actually reaches 75 mph / 121 kmh!
That is insane!
The dual motors can reach peak power levels of almost 7000 Watts.
The Dualtron X model costs $6490. It is one of the most expensive electric scooters in the world. And you can be sure that you will get your money's worth.
With dual suspension, equipped to handle off-road, and ranges in the hundreds of kilometers for the non-race editions, I can easily say that I see the Dualtron X as the ultimate scooter. Its price is high, but for the truest scooter fans, it may be well justified.
The Dualtron X is produced by Minimotors, an American company based in California. It is manufactured in China, but the technology and design come from South Korea.
So, that's the fastest scooter in the world right now for you. Pretty wild, right?
Still, we have to keep in mind that this scooter may have been modified from its original version. Out of the box, this scooter will not come ready to reach those speeds. If you want your scooter to go faster than 62 mph / 100 kmh, you will have to remove the speed limit.
Anyway, that's the true power of the Dualtron X. With that in mind, we can now crown it the fastest electric scooter in the world… or can we?
Fastest electric scooter on paper – Rion2 RE90
As of right now, January 2021, the theoretical championship belt may belong to the Rion2 RE90. The brand claims that their latest model can reach speeds of 100 mph / 161 kmh.
Yes, your eyes are not fooling you – that's 100 mph with an electric scooter! The scooter will come with a speed limit of 80 mph / 128 kmh, but that limit is removable.
Besides the theoretically fastest scooter, the Rion2 RE90 is also the one with the most powerful motor ever. It is also the most expensive scooter so far, with a total cost of $7400 ($7100 if you live in the USA).
Every Rion scooter is hand made. It takes 90 days to be completed and delivered from the day you order.
However, there is one detail missing, and that is the proof of the top speed.
Given Rion's reputation as a brand, I have no doubt that the RE90 can truly go that fast. In fact, as you can see in the picture above, the scooter is literally preparing to race a racing car, so it's very possible that the scooter is fully able of reaching those speeds.
But Dualtron X has thrown the glove. Now it's up to Rion to respond to the challenge. Until we see a video of the Rion reaching those kinds of speeds, we'll have to proclaim the Dualtron X as the interim champion.
The Rion is the favorite of the adrenaline junkies.
The manufacturers claim that their latest RE90 model can reach speeds of 100 mph / 161 kmh! That makes it the fastest electric scooter on paper, we'll just have to wait for a video for someone to prove it so that we can grant it that title officially.
Here's a modified, race-ready version of the Rion in action.
As you can see, even though Adam is an expert scooterist, he still has a little trouble navigating the Rion in the regular Paris streets. He obviously needs a highway (or an airport runway) to test this thing out fully.
This model was customized for reaching insane speeds and the throttle is very sensitive and accelerates extremely fast. With a motor power of 6700 Watts, it is the most powerful motor on this list. You can even hear the sound it produces – it's like a Formula 1 racecar.
Made out of high quality carbon fiber, it is light without being weak or wobbly.
The Rion is an excellent, excellent scooter indeed. It is on the pricey side, but for the most passionate users, it may be money well spent.
Fastest electric scooter under $3000 – Turbowheel Lightning+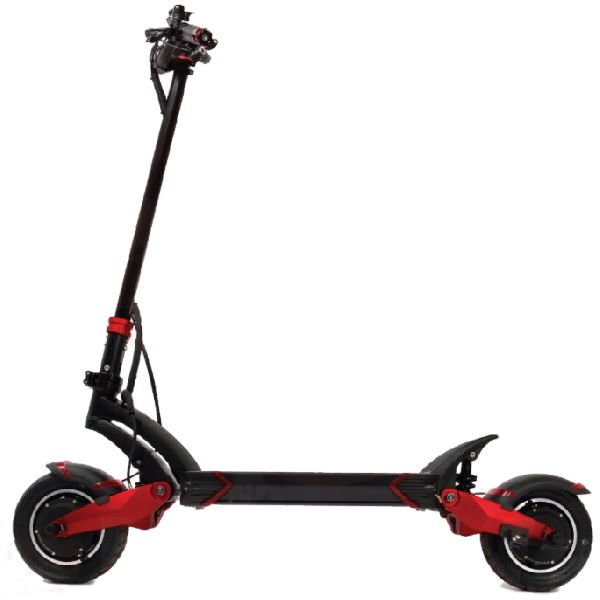 The regular Turbowheel Lightning is a crazy-fast, super-powerful electric scooter. The Turbowheel Lightning+ builds up on it and comes with even more power.
With two 1200 Watt motors for a combined real power of 2400 Watts and a peak power of 3600 Watts, the Turbowheel Lightning+ can reach up to 45 mph / 72 kmh. The dual motors will also provide excellent acceleration, climb angle, and a weight limit of 330 lbs / 150 kg, making this scooter very versatile and suitable for a lot of people looking for a premium experience.
Naturally, a scooter this fast will need the best brakes, and that's what the Turbowheel Lightning+ comes with – dual hydraulics Zoom disc brakes.
The scooter will also not lack in range as well, and the LG 18650 battery will provide you with a range of 40 mi / 64 km on a single charge.
All in all, the upgrade of the iconic Turbowheel Lightning is well worth the extra few hundred in price. Both are excellent scooters, but if you're after that extra speed, the Turbowheel Lightning+ will be the right choice for you. See my detailed Turbowheel Lightning / Lightning+ review.
Fastest electric scooter under $2000 – Dualtron 2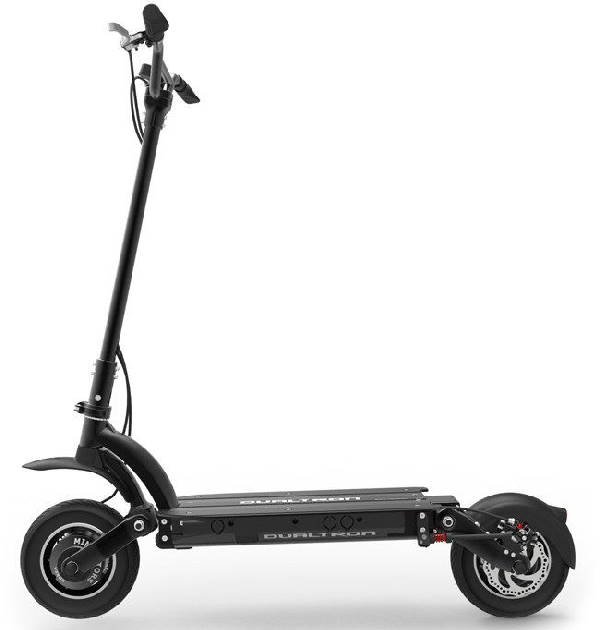 It's never a surprise when you see a Dualtron scooter on a list of super-fast scooters.
For a price of $1990, the Dualtron 2 can reach vision-blurring speeds of 40 mph / 65 kmh, thanks to the dual hub BLDC motors with a combined peak power of 1800 Watts.
As always with Dualtron scooters, you will get a high-quality, state-of-the-art machine, that is both an excellent performer but also comes with design and finish that is top-notch.
The 6063-T6 aluminum alloy frame, the dual disk and electric brakes, and the dual high impact PU integrated suspension, are just a few of the great features the Dualtron 2 sports.
Interestingly, unlike other fast scooters, this scooter doesn't weigh a ton, even though both the motors and the battery give it a substantial weight of 61 lbs / 28 kg. The scooter can support an optional seat, it can climb hills up to 25 degrees, and has an IP54 water protection standard. I don't think you can find a more complete fast scooter than the Dualtron 2 for under $2000.
Fastest electric scooter under $1500 – Apollo Ghost
Apollo are one of the newer brands on the electric scooter scene, and they are really rocking the boat.
The Apollo Ghost is one of their medium-priced and medium-powered models. For the price of $1499, this scooter can go as fast as 34 mph / 55 kmh, making it one of the fastest scooters under $1500, but also one of the best fast scooters in that price category.
The Ghost will also have a great range of 39 mi / 62 km powered by the 946 Wh battery with a Dynavolt smart battery management system.
The dual hub motors have a combined peak power of 2000 Watts, giving this scooter a great climb angle of 25 degrees. That is the case for all Apollo scooters – they usually have excellent climb angles.
Other notable features of the Apollo Ghost include the 300 lbs / 136 kg weight limit, the IP54 water protection standard, and the pneumatic tires with a diameter of 10 inches.
All in all, this is a well-balanced scooter that performs really well. If you want a very fast scooter and you budget is around $1500, I believe the Apollo Ghost to be the best choice.
Fastest electric scooter under $1000 – Turbowheel Dart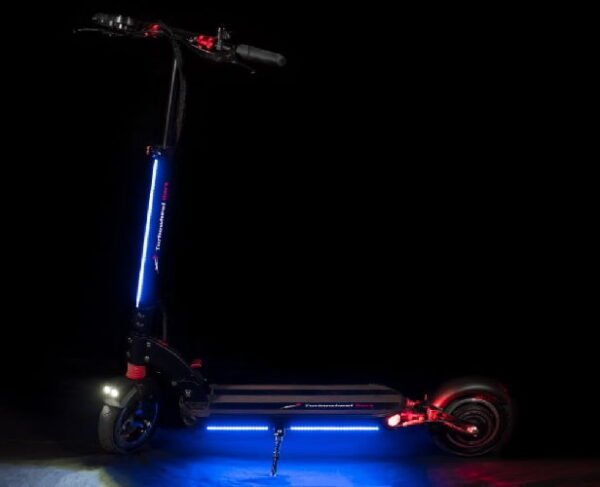 The Turbowheel Dart costs almost exactly $1000, and it can go as fast as 28 mph / 45 kmh, although quite a few owners have reported reaching speeds even beyond that.
That makes it one of the fastest electric scooters under $1000. There are some other $1000 models that claim speeds higher than this one, but they are either low-quality scooters, or their speed claims are not fully justified nor proven.
The Turbowheel Dart, on the other hand, has proven itself to be a reliable, powerful scooter in the hands on many owners, and is one of the most popular $1000 scooters ever.
Besides the great top speed, the Dart comes with a range of 30 mi / 48 km, a climb angle of 15 degrees, and very portable dimensions when folded. The weight of 40 lbs / 18 kg also gives it a lot of portability points, since this kind of speed and range are usually found in much heavier scooters.
The Dart is powered by a single rear hub motor with 600 Watts of real power, and a 614 Wh battery. It comes with front disc and rear drum regenerative brakes, dual spring suspension on the front and rear, and 8.5-inch pneumatic wheels. You will get a very solid performance, most notably top speed, from this scooter for the price of $998.
Fastest electric scooter under $500 – GoTrax G4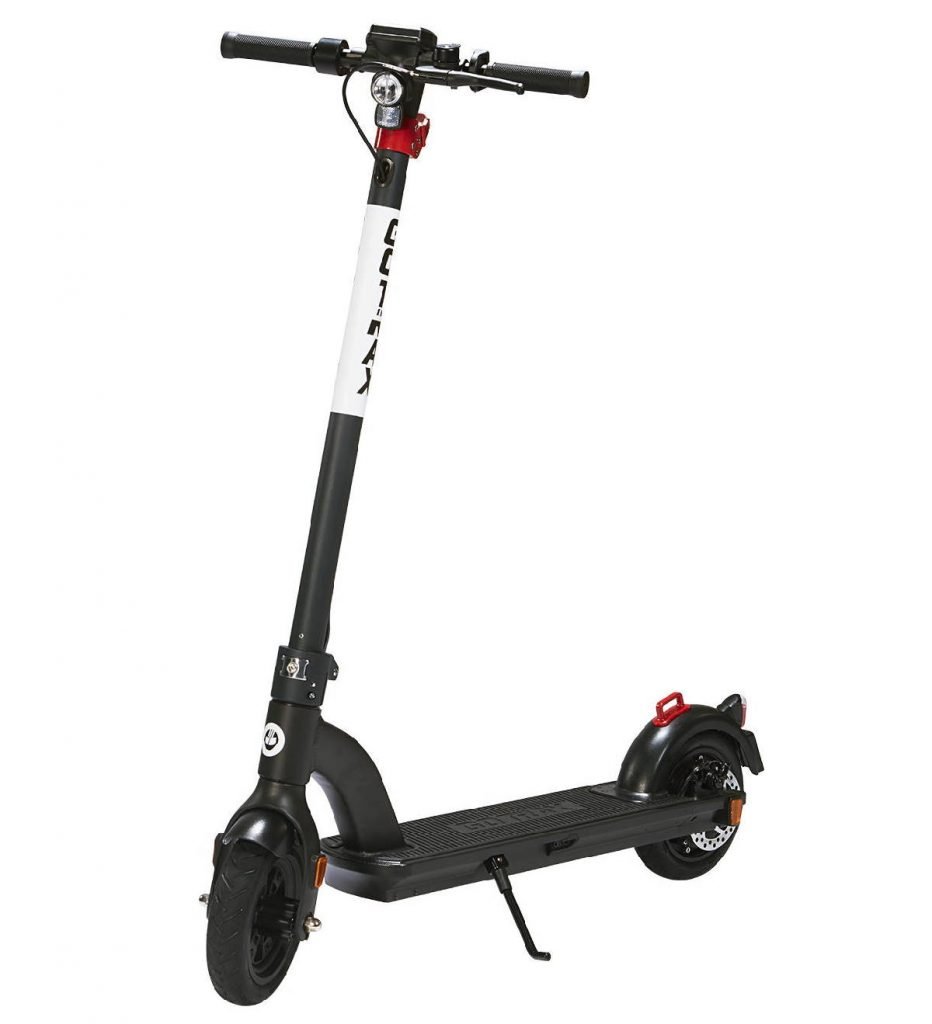 With a top speed of 20 mph / 32 kmh, and a price of $499, the GoTrax G4 is the fastest, and also one of the best $500 electric scooters.
One of the latest models from the established budget brand GoTrax, the G4 also has a very good range of 25 mi / 40 km, provided by the 374 Wh battery with a smart battery management system.
The rear-hub motor of 350 Watts gives this scooter a very strong climb angle of 15 degrees, and a weight capacity of 220 lbs / 100 kg. The scooter comes with an IP54 rating, dual electronic brakes with KERS, and large 10-inch pneumatic tires that will provide a ride much more comfortable than the typical budget scooter.
In some ways, the G4 is the pinnacle of the GoTrax brand. It looks similar in terms of design and look and feel to the other hugely successful GoTrax models, but it also employs a lot of the previous experience and iterations in its build. For $499, it will be the fastest electric scooter you can get. You can check out my comprehensive GoTrax G4 review if you're curious about this scooter.
Fastest electric scooter under $300 – Kugoo S1 Pro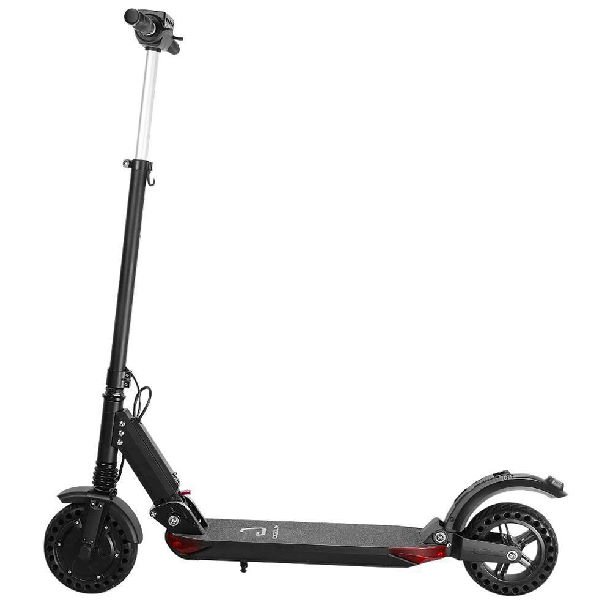 Well, $300 can't really get you a truly fast scooter. But they can still go a long way in getting you a good scooter that is not too slow, especially if you pick the fastest scooter in the price range.
Priced somewhere around $300, the Kugoo S1 Pro is the fastest scooter you can get for the price. It will develop speeds of up to 18.6 mph / 30 kmh, which is something that almost no other $300 can do, and even $500 scooters have a trouble achieving.
This solid-tire tough guy will have a range of 18.6 mi / 30 km on a single charge, powered by the 270 Wh Lithium-ion battery. It comes with a water protection standard of IP54, and it can climb hills of up to 15 degrees. Not bad for a scooter weighing just 24 lbs / 11 kg.
You can see the complete Kugoo S1 Pro review if you want to learn more about the fastest $300 scooter.
Zero 11X – best fastest scooter alternative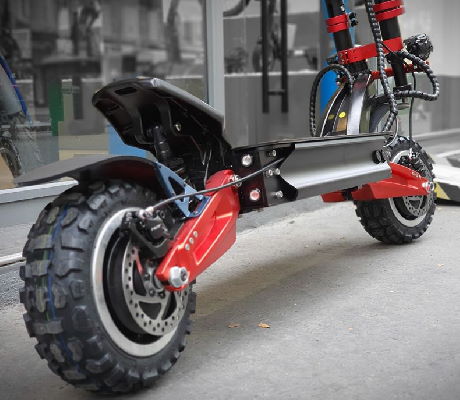 I haven't tried the Zero 11X, but I've already fallen in love with its value proposition and specs.
It is the cheapest scooter in the world that can reach speeds of 100 kmh. Priced between $2599 and $3000 depending on region and accessories, it is the only scooter that can go with 62 mph / 100 kmh for under $3000.
Megafans of the scooter report that even while it is an absolute bulldozer weighing at 117 lbs / 53 kg, it is still very easy to drive. It has some of the best suspensions on the market, and huge pneumatic 11-inch tires, making it perfect for all kinds of terrain.
If I had an unlimited budget at my disposal, I still think I would go with the Zero 11X, despite it not being the most expensive scooter out there.
The manufacturer of the Zero line is RevRides, and both their Zero 10X and Zero 8X are also on the list of super-fast scooters, although these are produced with the average person in mind.
Apollo Pro – best fast scooter for climbing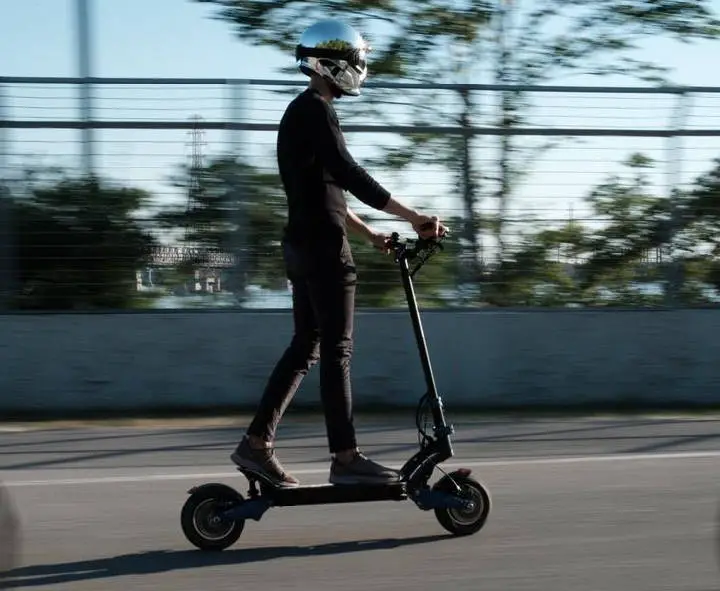 When it comes to climbing, it is very likely that the Apollo brand took over the market by storm and now provides the best climbing scooters with proven climb angles.
All of their scooters are excellent climbers, but none will be better than the Apollo Pro, with climb angles of 40 degrees!
Also, the Pro is extremelly fast. There are a few different versions of this scooter, and the fastest one, which is the Apollo Pro Ludicrous, can reach speeds of 44 mph / 71 kmh.
That makes the Apollo Pro the best fast scooter that's also a great climbing scooter too.
Even more importantly, all versions of it are well made. Both the design and the specs you get out of them are out of this world.
With the Ludicrous version, you get about 56 mi / 90 km in range, with a motor of 3200 Watts, for the price of $3299. If that price is outside of your budget, know that the other Pro versions will also give you both great speeds and climb angles, and the 52V version costs almost half than the Ludicrous, priced at $1799.
So, if you need that kind of scooter, one that is fast but can also take you through the hills of your city with ease, you should check the different Apollo Pro versions and find one that fits your needs and budget.
Qiewa Q Power – best fast scooter for heavy adults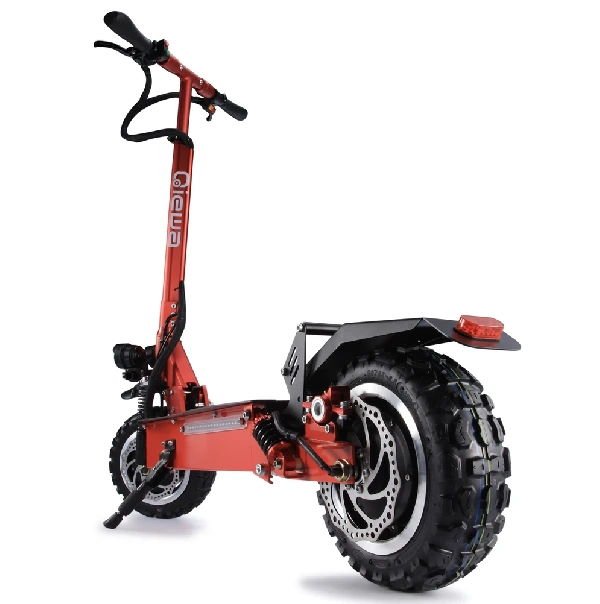 The Qiewa Q Power is a well-engineered piece with a dual motor, powerful torque, and great shock absorbers.
It is the fastest scooter in the $2000 range, and you get a lot for that price. With a maximum speed of 55 mph / 88 kmh, a range of 50 mi / 80 km, and a 3200 Watts motor, coming prepared for off-road with thick 11 inch tires, this is a true beast for the price. Amazing value for money.
What's more, this is the best electric scooter for heavy adults in the world right now. With an unrivaled weight capacity of 660 lbs / 300 kg, it is far ahead than even the second-best scooter for heavy adults (which, btw, also comes from Qiewa).
Kaabo Wolf Warrior – best offroad fast scooter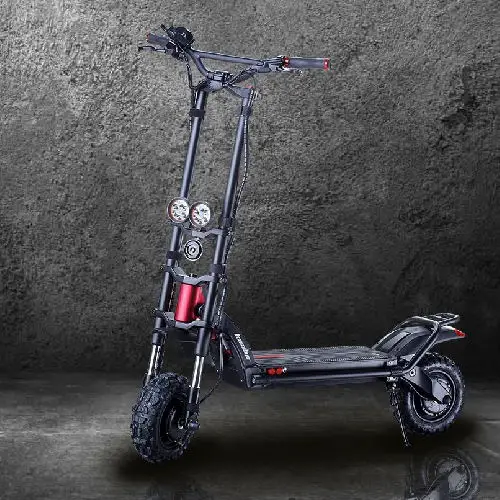 How cool is that name, right?
The Kaabo Wolf Warrior can reach speeds of up to 50 mph / 80 kmh, while having an amazing range as well of 70 mi / 112 km.
It is on the pricey side, costing $3195. But as many of the other items in this review, it is a high-quality, durable, tough piece of fast scooters, capable of taking any kind of abuse from long work commutes to take it to the mountains.
It is a scooter loved by its fans.
The specialty of the Kaabo Wolf Warrior is its offroad capabilities. Huge patterned tires, great suspension, powerful dual motors, all make it one of the best off-road scooters ever made. Check out my complete Kaabo Wolf Warrior review if you wish to find out more.
FLJ T113 – best value fast scooter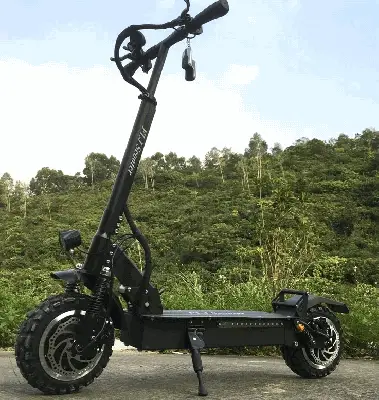 We saved possibly the best deal for last.
The FLJ T113 can go up to 50 mph / 80 kmh, and it costs just $1200! That's three times cheaper than most of the other scooters that can reach those kinds of speeds!
With a range of 50 mph / 80 km, 11-inch tires, a motor with 2400 Watts, it is probably the best budget fast scooter in the world. That is simply unheard of value.
Frequently asked questions about fast electric scooters
These are some of the most common questions that potential owners of fast scooters may have.
How fast do electric scooters go?
The average top speed for electric scooters is 26 mph / 42 kmh. Most of the standard commuter scooters will have top speeds between 15 mph and 28 mph (25 kmh and 45 kmh).
These numbers are the result of a full case study on top speeds of electric scooters. You can check out the research here.
While that's not slow at all, it wanes when compared to some of the rocketships we've seen here. That's the difference between scooters built for everyday use, and ones built to launch you into orbit.
What fast scooter has the biggest range?
The super-fast scooter that also has the longest range is the Dualtron X, which can go for 93 mi / 150 km on a single charge.
Typically, this kind of scooters here are optimized for speed, and getting more RPMs from the motor is what eats up most of the battery.
But they also can get a lot of range too. The motors are often in the thousands of Watts, which is a lot of power, and while going faster reduces the potential range, you are still covering a lot of distance in short periods of time.
That is exactly what the Dualtron X achieves. The drawback of that is that the scooter will need a huge battery and will be super-heavy, weighing a record 154 lbs / 70 kg.
How is the top speed in electric scooters measured?
Very rarely, some owners complain that their new scooter can't reach the advertised top speed. While this is not common, the reason behind it is very simple – the scooter's top speed is obtained in ideal lab conditions.
Ideal conditions for testing electric scooter top speeds include:
flat road, with no curves, and no ups and downs
relatively light rider, at least for a guy (around 155 lbs / 70 kg)
brand new, fully charged scooter
no wind, or no adverse wind
For some people, like for example heavier riders, the top speeds obtained in these conditions may not apply.
Are fast scooters good for beginners?
If you've never ridden an electric scooter before, or if you've only tried some rented ones a few times, you may want to think twice before getting a very fast machine for your first scooter. You will want to gain some general scooter experience before jumping into the shark tank.
Not only are fast scooters more dangerous, but they are also a lot more expensive. That's why you may want to try things out on a cheaper scooter first. If you've never ridden a scooter, rent out a few and try them out before dishing out hundreds or even thousands of dollars on a scooter.
How safe are fast electric scooters?
At first, it may seem obvious that the faster the scooter, the less safe it should be, right? However, most electric scooter accidents are not because of ultra-high speeds. The primary reasons for accidents are negligence in traffic, worn-out brakes, and even broken stems and handlebars. These are actually characteristic of cheaper scooters, something which fast scooters are definitely not. So an argument can easily be made that fast scooters themselves are safer than lower-quality ones.
But in a way, the scooter is ultimately as safe as the person who rides it. When riding at high speeds, the danger will always be there, and of course, the greater the speed, the greater the danger. And yes, the faster you ride, the worse the potential injury can be. So, always wear all the protective gear you can get your hands on, and ride responsibly.
What should I know before buying a fast scooter?
The faster the scooter, the better it needs to be in terms of power and quality. Almost all of the time, that will mean more expensive. If you're looking for the fastest scooters out there, don't be surprised when you see prices in the thousands of dollars.
If you've ridden a scooter but never a fast one, you should know that these things can really go! Electric scooters had a somewhat casual, unserious vibe about them when they first came out. That is no more the case, especially with the scooters mentioned here.
They easily rival cars in terms of speed, which means they have a real pull and will accelerate very quickly. Be cautious when starting and braking, do both gradually.
Since they use a lot of power, they have larger batteries in general.
Most important of all, keep in mind that in many places, such as in many states in the USA, and in some European countries, the scooters may ship with their speed limited. You will have to bypass that if you want to reach the true potential of the machine.
Finally, never forget to follow the electric scooter safety guidelines, and wear safety gear. This applies for every time you step on a scooter, but it is especially true when you are riding fast scooters. A helmet is the bare minimum, and a full motorcycle armor along with elbow pads, knee pads, and gloves, is highly recommended.
What does electric scooter speed depend upon?
The primary factor behind the top speed an electric scooter can provide will be the motor, and the motor's power in particular. The motor torque and RPMs will be important stats well. The scooter's battery is also very important, especially its voltage.
Other important features of the scooter that affect its top speed are the scooter's weight and its tires. Naturally, lighter scooters will be faster because of their smaller weight, but at the same time slower because they will not have big batteries and motors. Scooters with road or racing tires will be faster than scooters with off-road tires.
Aerodynamics can be a minor factor for the speed as well. It does play a small role, and that's why some scooters specialized for racing have an aerodynamic design.
How fast are electric scooters allowed to go?
In most Western countries, electric scooters will have legal speed limits ranging from 15 to 25 mph / 25 to 40 kmh.
In many of them, however, the laws may not be so strict, so a casual but safe 20 mph / 32 kmh ride may go unnoticed even if the law says 15 mph / 25 kmh.
For much of the other countries, electric scooters are either not yet regulated, or have adopted the same laws as bikes or motorcycles.
Can I make my electric scooter faster?
Aside from making sure that there's nothing limiting your speed, the answer will be doing one or more of these:
upgrading the battery
adding one or more extra batteries
charging your battery fully
turning off unnecessary electronics
cleaning your scooter, especially your wheels
rewinding the motor
changing the sprockets
Check out how to speed up your scooter to find out all the ways you can do that.
Summary
We went through all the fastest electric scooters on the planet right now. What a ride, right?
Here's a quick summary of the fastest electric scooters for reference.
---
---