The Raptor 2 is one of the most expensive solid-tire scooters available today. It comes with some great features, but some notable downsides as well. We will go into great detail about what this scooter offers, what are its pros and cons, how it compares to other models, and is it the right fit for you and your needs.
Dualtron Raptor 2 Review
The Dualtron Raptor 2 is one of the cheapest Dualtron scooters, but it's still a premium scooter in some ways. It comes with 3000 W dual hub motors that offer a top speed of 37 mph / 60 kmh. Weighing around 50 lbs / 22.5 kg, it's a portable, urban commuter with various driving modes and a pretty good range.
Should you buy the Dualtron Raptor 2?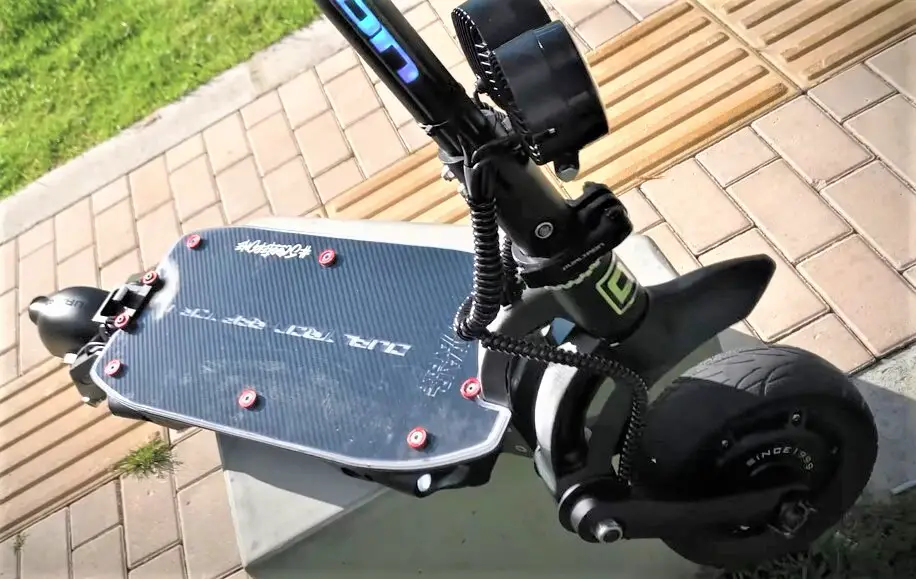 The ideal owner of the Dualtron Raptor 2 is a person that knows they definitely want a solid-tire electric scooter, but still doesn't want to go with some of the default and most popular choices, most of which are budget models and come with all of the limitations that budget scooters typically come with.
With the Dualtron Raptor 2, the brand known for top-notch, expensive electric scooters has finally decided to improve upon one of the cheapest models they ever offered. The results are mostly good, so if you're looking for a solid-tire scooter coming from arguably the best electric scooter brand in the world right now, but don't want an overpowered monster at the same time (which most of their scooters are), then this scooter may be a good choice for you.
Buying
The Dualtron Raptor 2 comes at around $2000 and is one of the cheapest scooters offered by the brand at the moment.
The best place to buy the Dualtron Raptor 2 from in the USA is USAMinimotors. In fact, the Raptor 2 is not exactly the most popular Dualtron model, and USAMinimotors is one of the few online stores that actually sell the scooter.
The scooter is often not available in Europe. Try the Dualtron Megastore or Electyum, they may happen to have the scooter in stock.
Shipping
When ordering from the official Dualtron distributors, such as USAMinimotors or Dualtron MegaStore in Europe, the scooter will arrive at your door at no additional costs. Even if you live in Europe, still check the USAMinimotors shipping policy, as they also may ship the scooter for free in some other countries besides the US.
Warranty
All Dualtron scooters come with a universal 6-month warranty period after purchase. The warranty covers defects on electronic parts but goes void after any modification or alteration to the scooter's build.
Returns, refunds, and test drive
USAMinimotors offer a 7-day free return policy on all products if you aren't satisfied with your purchase.
The scooter, of course, has to be returned in the same condition it was delivered in. All costs for the purchase, except the delivery ones, will be refunded.
They also offer a 7-day test ride period that you can apply for. You can check out if the scooter fits you and then simply return it if it's not to your liking. The test ride will cost you 10% of the full price of the scooter.
Customer support
The support team at USAMinimtors has a variety of channels through which you can reach them: the contact form on their website, email, social media, or the chatbot found at the bottom of their web page.
Basics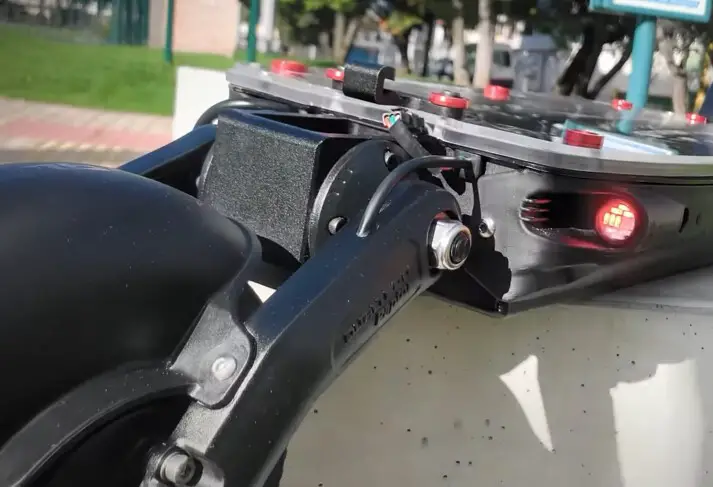 The Dualtron Raptor 2 is the second model in the Raptor line. Coming out on the market in 2020, it's definitely a big improvement to the previous model, both functionally and aesthetically.
The Dualtron brand
For those of you familiar with the world of electric scooters, Dualtron is probably a name you've already heard a million times.
The brand comes from South Korea, and it started as a mini-motorcycle company that slowly transitioned into the world of battery-powered vehicles and commuters.
Today, they offer some of the best and most powerful scooters available on the market.
Unboxing
The scooter comes in a big cardboard box, neatly packed with lots of styrofoam that protects it from any damage upon delivery.
Inside the box you will find:
the scooter
handlebars
charger
user manual
multitool
LED remote control
Assembly
The Dualtron Raptor 2 comes semi-assembled in the box and will need some work before it's ready to ride.
First of all, you will need to mount the handlebars onto the stem.
You will then need to attach the display screen and controls on the handles by screwing them in.
Then, you will need to check if everything else is tightly screwed, and double-check if all electronic parts are well connected.
Finally, you will need to set up and customize the display, the LED lights, the suspension level, and everything else to your personal preferences. All these steps are explained in detail in the user's manual provided in the package.
Folding and unfolding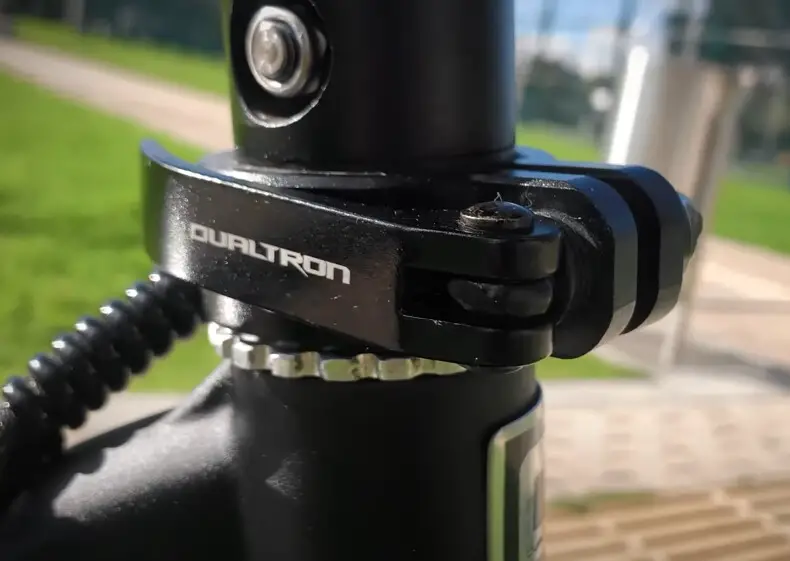 The Dualtron Raptor 2 is foldable at the stem. Unlike all other Dualtron models, it doesn't come with foldable handlebars, but it's all well compensated with the thin build of the entire frame.
The folding mechanism uses a latch to hold the stem stable when both folded and unfolded. It's easy to use, probably one of the simplest yet sturdiest mechanisms found in scooters.
Intended use and ride experience
While it's not completely uncomfortable, the experience of riding the Raptor 2 is, honestly, a bit rigid and underwhelming.
Dualtron used small, 8-inch solid rubber tires which can be uncomfortable for a lot of the users used to air-filled tires. They don't shine in ride smoothness and can make steering difficult, especially at higher speeds.
The great suspension and solid deck grip do improve upon the situation somewhat, but in my opinion, still don't do enough to provide a smooth experience that you might expect from a scooter priced this high.
Terrains and offroad
The small tires make this scooter pretty unsuitable for off-road rides.
While they won't require any maintenance since they don't suffer punctures that easily, small solid tires aren't the best for shock absorption on dirt or damaged roads. This scooter is simply designed to be used as an urban commuter, on well-built city roads.
Build quality
The build quality of the scooter is pretty solid, which is typical for Dualtron scooters manufactured in the past few years.
Materials
Dualtron used aviation-grade 6082-T6 aluminum alloy for the frame and the handle. The shaft is made from steel, while all covers and fenders are made from plastic.
Design
Compared to other Dualtron models, the Raptor 2 comes with a much more sleek and elegant design.
With its thin stem and average-sized deck, the scooter is much more similar to other commuter models priced at the budget level. This is great for an urban electric scooter that you will most likely use for your work commutes or errand runs.
The best part about the scooter's design is its handlebars. Covered in light carbon fiber and rubber gripping, they ensure maximum comfort even on long-distance rides.
Performance
On par with its price, the Dualtron Raptor 2 offers an above-average performance level, although nowhere near the level of performance you can find in the most powerful Dualtron scooters.
Speed
The top speed this scooter can officially reach is 37 mph / 60 kmh.
That's a great speed for rides in busy streets, and even if you're in a hurry, you will get you anywhere on time.
This kind of speed places the Dualtron Raptor 2 in a kind of middle category. It's not a racing scooter, obviously outshined but more expensive Dualtron models, but is much better than lots of the entry-level models that barely reach the 25 mph / 40 kmh mark.
Power and motors
Powered with dual-hub BLDC motors that offer peak power of 3000 W, the scooter offers one of the best accelerations in its price range.
Along with the light build, the scooter has a great power-to-price ratio and is a great option for uphill rides, especially for those living in places and areas that have a lot of hills.
Users also have the option to go for single or double motors usage, depending on how much power you currently need.
Battery, range, and charging
When it comes to the battery level and range, the Dualtron Raptor 2 has some serious shortcomings.
Dualtron has deployed a 60V, 18.2 Ah Li-ion battery with a total capacity of 1092 Wh for this model.
This kind of battery has an official range of 37 miles / 60 km, but it seems like this range is only reachable on eco-mode, while riding with a single motor usage. When used at its highest power mode, the range of the scooter drops significantly to about 20 mi / 32 km.
And the situation is not improved by the fact that the charging time of the battery is around 9 hours if you use the standard charger provided with the scooter. Since the scooter has two charging ports, you have the option to use two chargers simultaneously or get a fast charging one. But those have to be ordered separately at additional costs.
Climbing
The scooter makes good use of its low weight and the dual 3000 W motors, as it provides a pretty good climbing angle of 25° or about 47%.
It's one of the best selling points of the scooter and makes it perfect for those living or often commuting in hilly areas.
Features
Dualtron are known for outshining all other competitors when it comes to the features on their scooters. The Raptor 2 is similarly not lacking much when it comes to its functionality.
Tires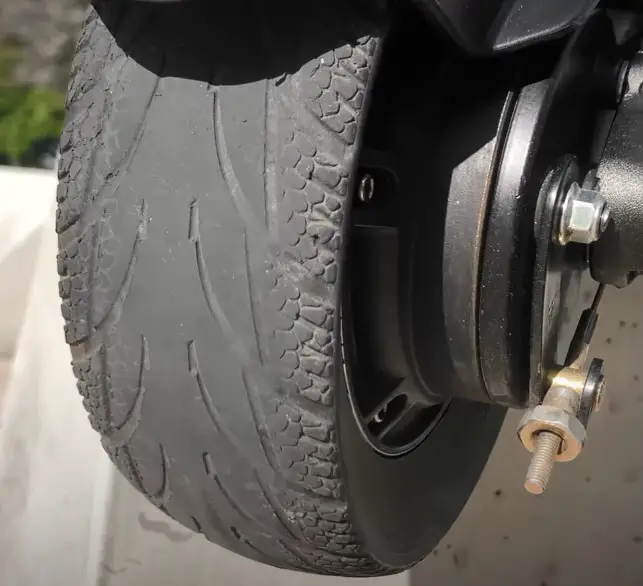 Dualtron Raptor 2 is equipped with 8×2-inch solid rubber tires. In my opinion, the diameter is truly small for a scooter this expensive.
As we already mentioned, these kinds of tires are still rather rarely used in e-scooters. The benefits they offer are rare punctures and next to no maintenance. But the issues, such as compromised ride quality and bad rough terrain handling can often outweigh the pros of solid wheels.
Brakes and safety
The braking system of the Raptor 2 is one of the better points of this model.
It uses a regenerative electric drum brake on the rear wheel, and an electric brake mounted on both the rear and front wheels. With such an ample system, it ensures the user that the scooter provides a completely safe ride and can easily come to a full stop in no time even at some higher speeds.
The electric brakes are additionally equipped with an ABS system, preventing any locking any skidding during an emergency stop.
Lights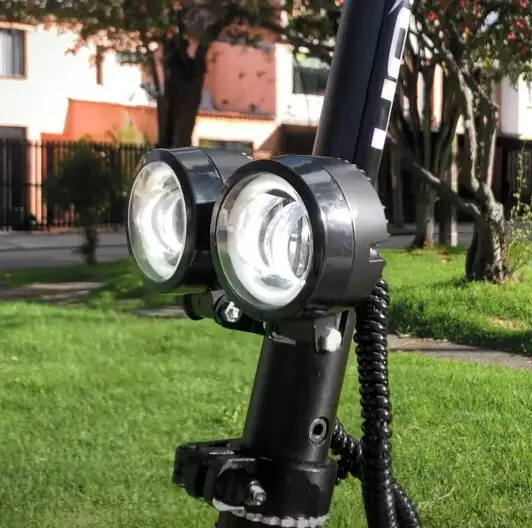 One thing Dualtron doesn't skimp on is the lightning of their products.
The Dualtron Raptor 2 is equipped with dual LED headlights up front, and with brake and taillights on the rear side. Additionally, it has the signature Dualtron RGB flashing lights on the stem bar, adding to the visibility at night and the stylishness of the scooter.
It's a well-lit-up scooter that you can comfortably ride at night, even in some less illuminated areas.
Suspension
The Dualtron Raptor 2 comes with a 15-step adjustable rubber suspension.
It's sufficient enough for shock-absorbing on most urban terrains you will encounter and does somewhat counter the shortcomings of the small tires in that regard.
However, the rubber suspension is still below the standard when compared to other scooters in the industry that use springs or hydraulics. It's a nice touch that they offer a wide range of levels, but almost all of them will be insufficient to grant you a pleasant ride on a bumpy street, or even one filled with potholes.
Water resistance
While Dualtron doesn't provide an official IP rating, it's almost obvious that the Raptor 2 is not a water-resistant scooter. When it comes to its electronic parts, it looks like they can be severely damaged by any serious contact with water.
I would strongly advise you not to ride the scooter in wet conditions, especially after heavy rain which leaves the streets filled with pools of water.
Deck and handlebars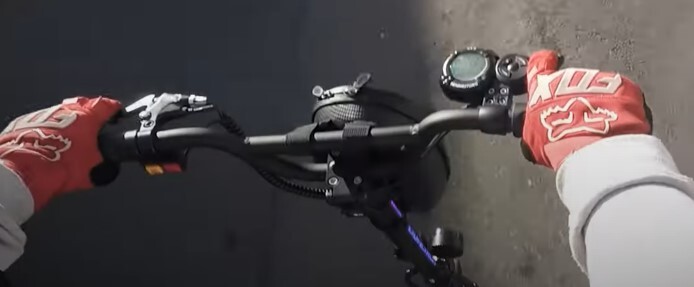 The Raptor 2 comes with the distinctive Dualtron spacious deck, often described as a platform, rather than the typical long and narrow scooter deck.
It's equipped with a gripped surface to prevent slipping and is big enough to comfortably place both your feet on it. The deck isn't as thick as some of the more expensive models, but that adds to the slim figure that Dualtron was going for with this scooter. However, it's still thicker than most of the cheaper scooters since it holds the battery inside of it.
Both charging ports are placed on the side of the deck, and the two taillights are placed on the rear side of it.
The handlebars, on the other hand, are more typical, unfoldable bars that are closer in looks to the traditional bicycle handlebars, rather than the ones of modern electric scooters. They are still wide and comfortable enough to offer a pleasant ride even for an entire day of use.
Portability, weight, dimensions
This is one of the most portable Dualtron scooters, and one of the lightest ones that can reach speeds higher than 30 mph / 48 kmh.
It weighs about 50 lbs / 22.6 kg and can be easily folded and picked up with a single hand.
Its dimensions are:
folded: 41 * 23.8 * 18.1 in / 104 * 60.5 * 46 cm
unfolded: 41 * 23.8 * 46.5 in / 104 * 60.5 * 118 cm
All of this makes the scooter very portable, and unlike all other Dualtron models, easily carried around.
Weight limit and use by heavy adults
The small size and weight of the Dualtron Raptor 2 limits it quite a lot in terms of the carry load, with the weight limit clocking out at 220 lbs / 100 kg.
Of course, this will comfortably hold most of the riders, but if you overload the scooter you will likely notice a significant drop in performance.
The low weight limit also suggests that the total power of the scooter, its max speed, climbing angle, and range will vary greatly based on the load it carries. It has been confirmed by many users that the higher the load, the fewer of these performance ceilings they were able to reach.
Controls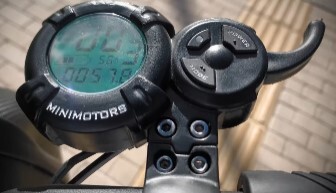 The scooter has controls in the cockpit that offer various riding options and features to the rider.
On the left handlebar, you will find the electronic brake lever and the motor engagement button. Placed right next to them are the mode selection buttons.
On the right handlebar, there is the new, 3rd generation EY3 LCD smart display that shows all the important information about the current speed, distance, battery level, and driving mode.
Even though it seems like there are a lot of controls available, all of them are conveniently placed in the user's reach. You will find using this scooter fairly easy and you will get the hang of it in a minute.
Accessories and customizations
The Dualtron Raptor 2 does not allow for much customization.
Putting a seat or something similarly heavy on it will significantly restrict the scooter's performance.
The best after-market custom option you can get is probably the fingerprint lock, which is one of the best locking systems currently available and is easily mountable on the scooter. I still recommend getting a very secure scooter lock as well, as the fingerprint lock alone may not be enough to prevent theft.
Additionally, you can get a leg rest if you are the type of rider who likes to place his feet above the wheel. With such a large and spacious deck I doubt this will be something you are going to need, but it's still up to your personal preference and riding style.
Of course, protective gear is a must for a scooter like this one. The Dualtron Raptor 2 is still a somewhat fast scooter with powerful acceleration. That's why a safe scooter helmet, preferably a full-face one, and even some knee and elbow protection are something you must get if you plan to test the possibilities of this scooter.
If you are curious about other ways you can customize this scooter, see my guide on electric scooter accessories, where you will find dozens of creative ways to upgrade your scooter.
Problems and downsides
If you've read this far, it may be obvious to you that this is not the best scooter Dualtron scooter out there. The Raptor 2 has many shortcomings, and although it's considered to be a nice and fast city commuter, it hardly justifies its hefty price in my opinion.
The biggest downside is probably the battery. It has a very long charging time for such a short range, and the range can be further limited by the carry load and the riding mode.
The second major issue is the tires. The solid rubber approach may be somewhat justified with the low-maintenance advantages it offers. But it's hard to go over just how small these wheels are and how hard it can be to maneuver with them, especially on less maintained roads.
The weight limit is another major downside that can be a big issue for some users, and an important thing to consider if you or the person you're buying this scooter for are close or above the weight limit.
To be fair, the Dualtron Raptor 2 is priced much lower than the other Dualtron counterparts. However, it's not only hard to compare it to the more expensive scooters, but I believe it's hard to compare it even to some cheaper ones as well. There are lots of cheaper models out there that offer similar or even better performance for much lower prices.
What users are saying about the Dualtron Storm
Most users agree that this is nothing more than an average city commuter. It will satisfy users that look to use their scooter around the city, driving from home to work and back, but won't offer much more than that.
Also, this is one of the less popular Dualtron scooters out there, and reports about its performance and quality are much less available. It seems like this is one of the lowest selling Dualtron products, often missing from the typical ordering sites and web stores.
Dualtron Raptor 2 vs other scooters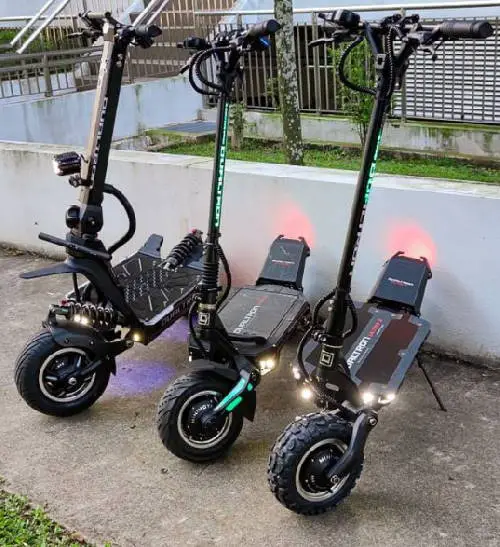 Let's look at how the scooter compares to some of its competitors.
Dualtron Raptor 2 vs Dualtron Ultra 2
The next Dualtron scooter in the Dualtron line in terms of price is the Dualtron Ultra 2.
Coming at the price of about $3100 (about 30% more expensive than the Raptor 2), the Ultra 2 model is the perfect upgrade of its cheaper counterpart. It has double the motor power, much better tires, and is perfectly capable of taking you on an off-road adventure, let alone handling some potholes.
The speed and range of the Ultra 2 are much less impacted by the user's weight and other variables like with the Raptor 2, offering a stable 80 mi / 129 km range and a 50 mph / 80 kph top speed.
In my opinion, if you're already determined to spend a few thousand dollars on an electric scooter, then just go with the Dualtron Ultra 2.
Dualtron Raptor 2 vs Dualtron Spider
If the major concerns I outlined about the Raptor 2 are a dealbreaker for you, then the Dualtron Spider might be the other similarly-priced scooter worth checking out.
The Spider will usually cost you around $2500, slightly more than the Raptor 2, but still in a similar price range overall. It has almost the same build, controls, design and range, but outshines the cheaper model in a few important aspects.
Most notably, the tires are much bigger, 10-inch pneumatic tires, offering a much better ride experience. The weight of the scooter is also slightly lighter, about 4 lbs / 2 kg less than the Raptor 2. All of this is put together in a much sturdier and higher quality build, including the Spider's magnesium-built motors.
Check out the Dualtron Spider at USAMinimotors if it sounds like a better deal to you.
Dualtron Raptor 2 vs EMove Cruiser
The EMove Cruiser has large pneumatic 10-inch tires and an adjustable dual suspension, which together provide one of the smoothest rides in the mid-to-upper price range. It also has an insanely big range of 62 mi / 100 km, the best water resistance rating (IPX6), and weighs just 51.8 lbs / 23.5 kg while being able to carry 353 lbs / 160 kg.
If you are a frequent reader of this blog, you probably already know that I have a very high opinion of the EMove Cruiser. I would probably suggest most people go with the EMove Cruiser over the Dualtron Raptor 2, unless you specifically need the Raptor 2.
Who is the perfect owner of the Dualtron Raptor 2?
You should only consider this scooter if you plan to use it in urban areas, with streets in great condition, and for light daily commutes. Because that's what the Dualtron Raptor 2 is best used for.
It can suit intermediate riders well, as well as riders who are looking to jump from their cheap old scooter into something more luxurious. It's great for busy streets since it has excellent braking and a powerful acceleration too, in case you need to stop ever so often on it.
The best owner is the one who doesn't want to spend time maintaining and customizing its vehicle because that's where this scooter shines. It requires almost no caretaking and you won't ever have a problem with flat or punctured tires.
Overall, while I think there are better scooters out there, this is still a fun scooter, and still probably one of the best premium solid tires electric scooters out there.
Where to buy the Dualtron Raptor 2 from?
Worldwide
The best (and often times the only) place to get the Dualtron Raptor 2 from is
USAMinimotors
.
Dualtron Raptor 2 Specifications
Dualtron Raptor 2 Specifications
| | |
| --- | --- |
| Top speed | 60 kmh |
| Top speed | 37 mph |
| Range | 60 km |
| Range | 37 mi |
| Power | 1600 W real, 3200 W peak |
| Climb angle | 25 ° |
| Battery | 1077 Wh, 60 V |
| Battery type | Sinc power cells |
| Charging time | 9 h |
| Weight | 22.7 kg |
| Weight | 50 lbs |
| Weight limit | 100 kg |
| Weight limit | 220 lbs |
| Tire size | 8 in |
| Tire type | solid |
| Tire pressure | 45-50 psi |
| Build material | aviation grade 6082-T6 aluminum alloy, the shaft is SCM440 steel, and plastic covers |
| Brakes | electric rear drum brakes |
| ABS | ABS |
| Shock absorbers | 5 kinds of cartridge replaceable design and a 9-step variable suspension system |
| Control | EY3 LCD + motor mode buttons |
| Warranty | 6 months |
| Folded dimensions (L * W * H) | 104 cm * 60.5 cm * 46 cm |
| Folded dimensions (L * W * H) | 41 in * 24 in * 18 in |
| Unfolded dimensions (L * W * H) | 104 cm * 60.5 cm * 118 cm |
| Unfolded dimensions (L * W * H) | 41 in * 24 in * 46 in |
| Adjustable handlebar | no |
---
Want to get cool tips, exclusive discounts and promotions, and unseen scooter hacks? Join
Scooter Secrets
.
---