In this complete review of the Dualtron Storm electric scooter, we will see why this newer Dualtron model quickly became one of the most popular power scooters in the world.
Dualtron Storm review
The Dualtron Storm is one of the most powerful scooters in the Dualtron series. With a 1500 W motor mounted in each wheel for a combined real power of 3000 W and peak power of 6640 W, and a 72V 31.5 Ah LG removable battery, it provides a top speed of 55 mph / 80.5 kmh, a range of 80 mi / 129 km, and high climb angles of up to 35°.
Should you buy the Dualtron Storm?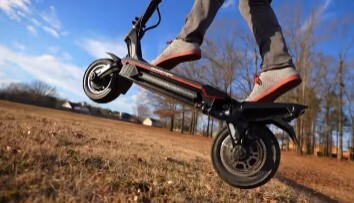 When it comes to the Dualtron Storm, one thing is for sure – this scooter is definitely not your everyman's scooter!
Only consider this scooter if you want an extremely powerful scooter that has it all – top-tier quality, insane top speed, amazing range, excellent on challenging grounds, and cutting-edge features like a high-capacity removable battery and a multi-switch. And, of course, if you can afford it, as this is one of the most expensive electric scooters on the market currently.
Buying
The price of this scooter will typically be around $4490.
The best online store to buy the Dualtrom Storm from is Voromotors. They have recently become an official distributor for Dualtron scooters, and that's great news, since Voromotors is one of the best electric scooter distributors in the world.
Plus, if you add the 1-year Extend product protection and then use my special coupon code FreeExtend at checkout, you will get a total of 2 years of free warranty!
But also, it's a good idea to look at the other listings for this scooter, such as USAMinimotors, just to compare prices and be 100% sure you are getting the best deal.
Also, if you live in the UK or in Europe, then see the Ride And Glide store, as they will provide free shipping for this scooter and you may end up getting a better deal overall.
Shipping
Dualtron have recently made all of their scooters easily available throughout the whole world. The Storm, having just come out on the market this year, might be out of stock on times, but you shouldn't have a problem ordering in for more than a few weeks.
The best options in terms of shipping will probably be offered by Voromotors. With them, shipping is free in the continental US, and shipping in Canada, the UK, and most EU countries is free on orders over $3000, which means that you will get this scooter shipped for free in those regions as well. You can find out more on Voromotors' shipping page.
Warranty
The warranty period for all Dualtron scooter series is 12 months after purchase, but as I mentioned, adding the 1-year Extend product protection and then using my coupon code FreeExtend you will get 2 years of warranty for free. The warranty covers defects on all electronic parts, excluding any damages or modifications to the scooter.
Returns and refunds
There is a 7-day free return policy since the day of purchase. To be eligible for a return, the product must be unused and in the same condition it was received in.
Customer support
If you order this scooter through Voromotors, which I definitely recommend, you will have access to one of the best customer support teams in the electric scooter industry. You can reach the Voromotors customer support team on their contact page, as well as the chatbot on their website.
Basics
This is the 101 of the Dualtron Storm.
The Dualtron brand
Dualtron is one of the best-selling brands of powerful, racing scooters on the market. They are solely focused on building high-quality, premium scooters, something they excelled in for the past few years.
Innovation and power are their biggest selling points, and they have hit the nail on the head with the Dualtron Storm model.
The brand hails from South Korea, established in 1999 as Minimotors, and is currently considered one of the best electric scooter brands in the world.
Unboxing
The Dualtron Storm arrives in a big box that is neatly packed with lots of Styrofoam for great protection.
The box includes:
scooter
LED controller
charger
multitool
owner's manual
Assembly
The scooter arrives almost completely assembled, with the exception of a few minor handlebars arrangements. The bars are folded, so you will have to lift them up and tighten them, and you'll also need to screw in the handles and the display up top.
That's it. After you complete those two minor steps, and make sure that the battery is fully charged, the tires are inflated, and the brakes are functional, the scooter is ready to go.
Folding and unfolding
The Storm, like any Dualtron scooter, is fully foldable. You can fold both the stem and the handlebars, with the sturdy Dualtron folding mechanism that uses two clamps on the bottom of the stem.
Intended use and ride experience
The Dualtron Storm is a premium, power scooter made to handle high speeds. It has the sturdiness, suspension, and deck placement to provide stable rides, even on the occasional rough terrain.
This is a truly fun and potent scooter. Riding it will likely give you the best experience you can get from an electric scooter. It is very stable, secure, and with its powerful acceleration, it will surely give you a big adrenaline rush.
Terrains and offroad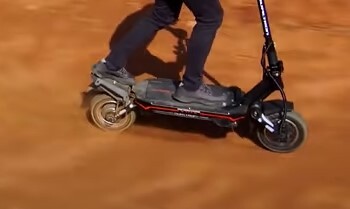 The great power this scooter has is used for much more than reaching high speeds. The scooter can effortlessly handle many hard terrains and offroad tracks. The tires have a great grip, and the very strong motor can easily deal with various dirt paths.
Aside from the motor power, Dualtrom Storm has its deck very high from the ground, which further allows it to handle any rougher or uneven terrains and bumps that you will encounter on offroad rides. However, it is definitely not made primarily as an offroad scooter and it will not be able to handle any rocky or mountainous terrains.
Build quality
This is quite possibly the sturdiest, most safely built, big power scooter out there currently. Dualtron is known for making those types of scooters that can smash any competitor, but the Storm offers a much higher quality design than most of the previous models.
Materials
The frame and handles are made from aviation-grade aluminum alloy, while the shaft of the scooter is made from steel and plastic covers. Dualtron also took care of the kickstand, designing it immensely larger to offer great stability while the scooter is stationary.
Design
The first thing you notice on the Dualtrom Storm is its futuristic look. It has very sharp, bold edges which are adorned with multiple LED lights and modern-looking aesthetics. It has a big, shining deck, giving off a feeling like you are riding some modernistic hoverboard instead of an electric scooter. Its design is very pleasant to look at and definitely passes our eye test.
Performance
The Dualtron Storm is a mean machine in the truest sense of the word. This is what one of the most powerful electric scooters in the world is capable of.
Speed
The official top speed of the Dualtrom Storm is 55 mph / 80.5 kmh.
This means it is definitely a racing type of scooter, especially with an acceleration of 0-30 mph in just 4.5 seconds. It's also fair to mention that many users have managed to go even higher than 60 mph / 96 kmh, so it's fair to assume Dualtrom have made some underreporting on their part.
Power and motors
The astonishing performance of the Dualtron Storm is thanks to the dual motors integrated into each wheel. Together, they have 3000 Watts or real power, and 6640 Watts peak power.
Both of the motors are brushless direct current motors.
Range
The Dualtron Storm has a range of 80 miles / 129 km with a single battery, going up to 160 miles / 258 km with two of them.
This kind of range is made possible by the key new feature of this scooter – its removable battery.
Battery and charging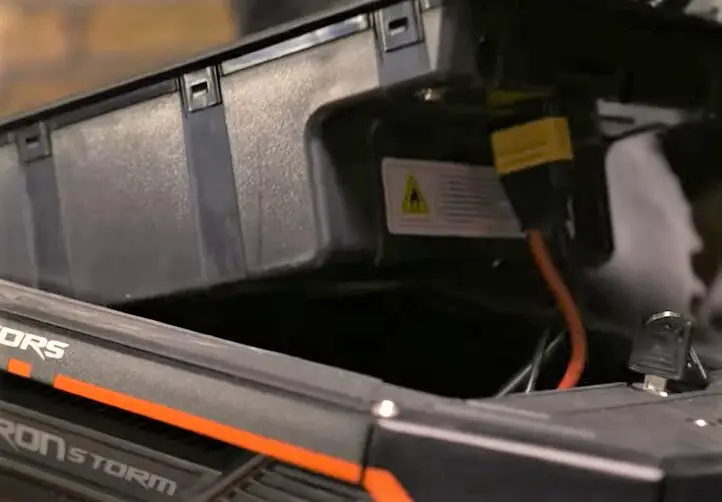 The LG 3500 removable battery, with a 2268 Wh and 31.5 Ah capacity, and a voltage of 72 V, is one of the strongest features of this scooter.
It can be easily detached from the body of the scooter with almost no effort. This gives you the option to buy additional batteries and use two of them, which brings one great benefit – you can use one while the other is charging, saving a lot of time, or simply extend the range of the scooter if you plan a longer trip.
The charging time is also pretty low, mainly because of the dual charging port. The two ports halve the usual charging time of 21 hours down to 10 hours with 2 standard chargers, or 4.8 hours with the quick ones.
Climbing
The official climbing angle of the Dualtron Storm is 35 degrees. This makes it one of the scooters ones when it comes to climbing. The climb angle hasn't really been tested yet, though.
Features
As with any premium scooter, the Dualtron Storm lacks no features, and we can easily describe it as the complete package.
Tires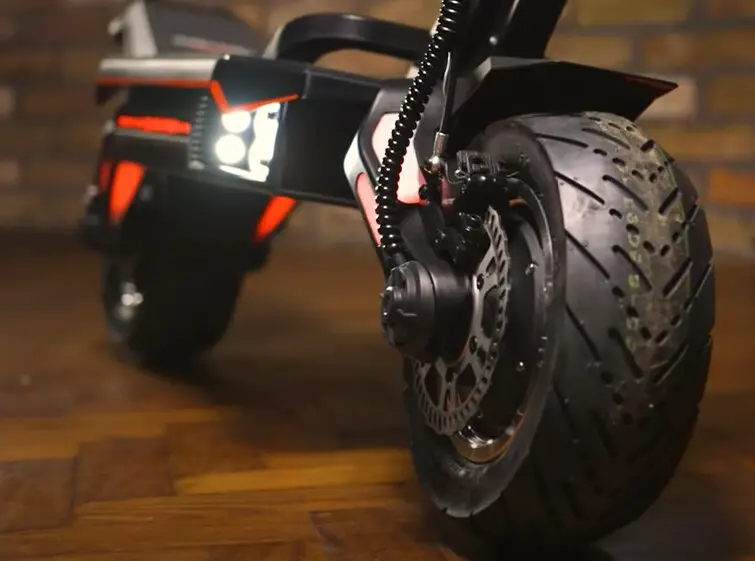 The Dualtron Storm comes with wide tubeless pneumatic tires, 11 inches in diameter. These tires are a key component for a powerful speeding machine like this one.
The same tires have been used in other similar models of the Dualtron brand, and have had great feedback from the users. It seems like they've stuck with them as they are definitely able to support the scooters at the high speeds they often reach.
Brakes and safety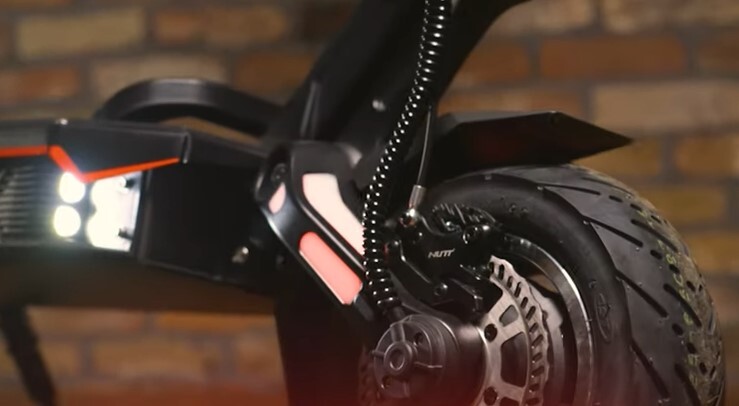 The Storm comes with 160 mm fully hydraulic discs. This is one of the best braking systems on the market, giving the scooter excellent stability and adding to its secure build.
It comes with an anti-lock Brake System (ABS) that reduces tire skidding and locking up during braking, a feature often overlooked that many high-speed riders love. This feature can be deactivated through the P-settings if it doesn't fit your personal riding style.
As for safety, there is no such thing as being extra safe when it comes to speed and power such as this one. A full-face motorcycle helmet is strongly recommended at all times while riding this scooter. Additional protective equipment should also be considered, such as a motorcycle jacket or armor, gloves, and pads. Going anywhere above 30 mph without such protective gear is very dangerous, so you should definitely not ignore these tips.
Suspension
As with most scooters from the Dualtron brand, the Storm has great, high-quality suspension which comes with 5 different adjustable types. You can set it to anything from very soft to very hard, depending on your personal preferences.
Unlike other models, it has noticeably chunky suspension arms, different from other Dualtron scooters. On the plus side, they are nicely equipped with great-looking RGB lights, adding up to the futuristic looks of the scooter.
Water resistance
Dualtron guarantee that the Storm model is completely waterproof and its electronic parts won't be damaged if it comes in contact with water. This is especially important for wet days if you live somewhere where it often rains.
Placing the charging port on the top of the deck further helps with the water resistance of the scooter, as any splashing water won't get inside and damage the electronics. This is somewhat different than what's typically found in other scooter models, where the charging ports are typically mounted on the side of the deck.
Lights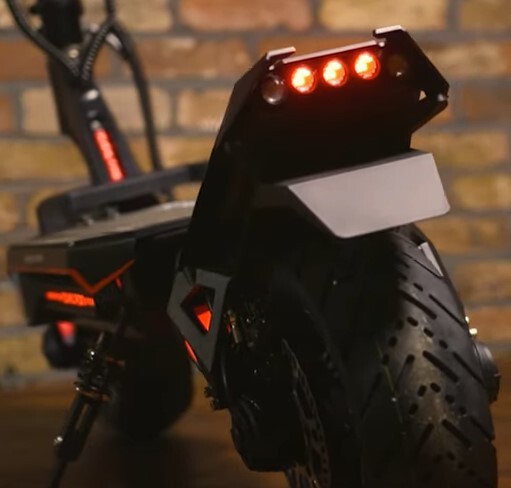 The Dualtron Storm has one of the best lighting systems out of all electric scooters on the market today.
It comes with strong dual LED headlights and taillights, and brake light as well, which are all pretty standard, but the scooter also comes with turn signals, which are not that common yet.
Additionally, RGB lights are added on the suspension arms, on each side of the deck, on the stem bar, and they project the logo of the brand on the ground while the scooter is stationary. All can be changed with the controller, like on most other Dualtron scooters, but also controlled through the switch box on the handlebars.
Deck and handlebars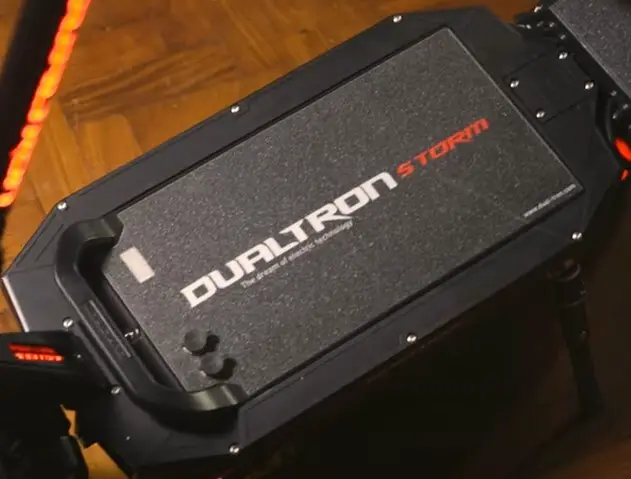 The Storm comes with the standard Dualtron foldable handlebars. These are pretty much the gold standard of the industry, with natural positions for all of the controls and a great feeling while riding.
However, this model comes with one novelty here – the multi-switch. This aluminum-made small box is placed on the left handlebar and controls the RGB LED lights of the scooter, and it also holds the buttons for the horn, the hazard lights, the indicator lights, and the eco-mode enabler. It's actually quite a clever design hack to have all the important side-controls available to you at any moment.
The deck is really wide and sturdy, completely covered with a gripped surface to prevent slipping. In my opinion, it's a great-looking deck, comfortable for both feet, and is neatly designed to pack many RGB lights on it to make the scooter look sleek and modern.
Portability, weight, dimensions
Well, all the cool new features come at a somewhat great price. The Dualtron Storm is one of the heaviest scooters on the market right now, weighing in at 102 lbs / 46.2 kg. This means most of the people will not be able to carry it around easily, and definitely not carry it over a longer distance.
Its length also comes at about 47.8 in / 121 cm, making it too big to fit into most small to medium car trunks.
All in all, the Storm is definitely not a portable scooter, but with its great battery capacity and various terrains power, you might not need to carry it around in your arms ever.
Weight limit and use by heavy adults
The official weight limit of the Dualtron Storm is 330 lbs / 150 kg.
Since this is definitely one of the most powerful scooters around, with a sturdy, thick deck and stable suspension, it can easily hold this weight with no problem, and almost certainly a lot more in fact.
Controls
The Storm comes with the standard EY3 Minimotors LCD Display, placed on the right handlebar. The display shows:
current speed
current battery level
mode
voltage
distance traveled
time traveled
On the left side, there is an additional control box, or the switch box. It has 5 buttons in total, the clicking ones that control all the lights, the eco-mode toggle, and one left-right switching button which controls the turning signals.
It also comes with a remote that controls the color of the RGB LED lights mounted in the deck and the stem.
Accessories and customizations
The Dualtron Storm is very well suited for riding right out of the box. However, there might be some additional accessories and upgrades you will want to additionally get for the complete experience.
First of all, since this is a very fast scooter, riding without a helmet would be insanity, so make sure to check out my guide on the best electric scooter helmets, and get a full-face helmet if you can, as anything less than that might be riskier.
The most important upgrade is a second battery. The removable battery feature offers a lot of possibilities and is a huge improvement over other, older models, but it's almost worthless if you only use the one battery you get with the scooter.
Another gadget you need to definitely check out is the fingerprint lock. The Dualtron Storm is one of the most expensive scooters ever, and if you invest in such a vehicle, you definitely want it to be as safe and secure as possible. A strong scooter lock is still a must-have, but the fingerprint lock will make sure that the security of your scooter is rock-solid.
To see all of the possible options you can customize electric scooters with generic parts and upgrades, see my guide on electric scooter accessories.
Problems and downsides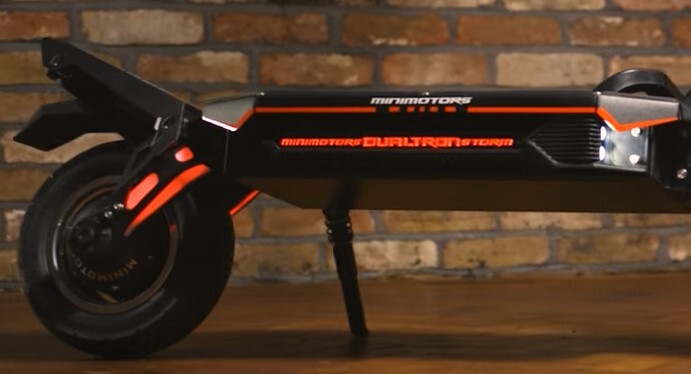 To be perfectly honest, I was really trying to find any major issues with this scooter, but I simply couldn't do it.
Although the scooter is fairly new to the market, there aren't any serious problems with it so far, and the users are in awe of its quality and performance.
One minor issue I found was with the headlights, which a user reported weren't too bright for night rides. Now while this might seem like a big thing, it's largely up to the environment you ride in and how bright the street is. If it becomes a serious problem you can easily solve it after-market, by upgrading to brighter LED lights.
And that's about it.
Buying this scooter would mean you get what you pay for, no more, no less. You should have in mind that this isn't a scooter for everybody. It's a premium, expensive scooter that definitely warrants an experienced driver on it, and the very high price point may in fact be its biggest disadvantage.
What users are saying about the Dualtron Storm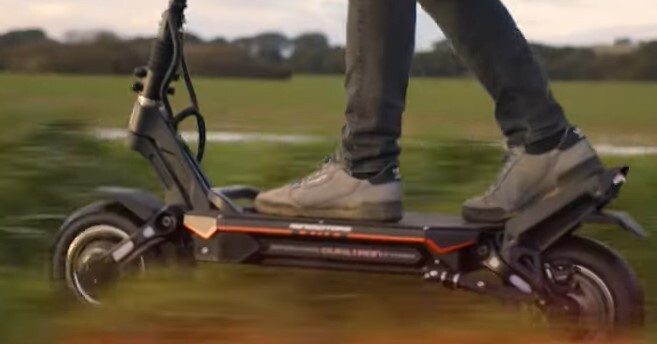 Overall, the feedback about this scooter is great, and many users consider this the best scooter currently available. I haven't managed to find any negative reviews about it.
Most users have agreed this is a clear upgrade on anything they have ridden before. Many owners have tested it extensively and haven't found any issues with it.
Dualtron Storm vs other electric scooters
The Dualtron Storm is almost in a league of its own, and it's no wonder it's almost always compared only against other Dualtron scooters.
Dualtron Storm vs Dualtron Thunder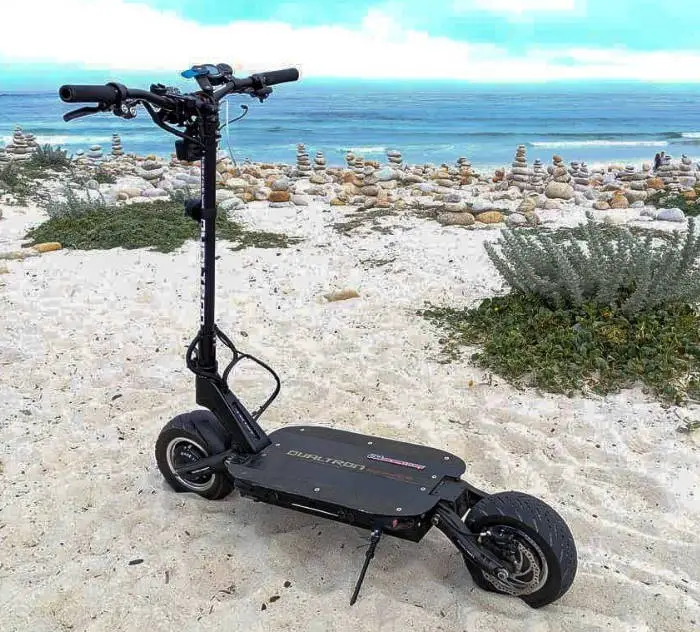 The Dualtron Storm may be considered the next-gen upgrade of the Thunder model.
Both are similar in size, have the same tires and the same brakes, but on almost every other level the Storm is simply superior. It has better suspension, higher off-ground clearance, and significantly more powerful motors and battery, while also offering to option to use two batteries at the same time, meaning potentially much greater travel distance.
The kickstand is an upgrade as well. Dualtron designed a much bigger, sturdier, and more stable kickstand for the Storm, something users have wanted from the other models for quite a long time.
Aside from their specifications, the Storm definitely has a better, more modern, futuristic look thanks to the RGB LED lights mounted on all sides of the scooter. Naturally, this all comes at a nice price difference as well, whereas the Thunder is about $800 cheaper than the Storm model.
Check out my full review of the Dualtron Thunder if you want to find out more about it.
Dualtron Storm vs Dualtron Ultra
The Dualtron Ultra is a kind of an off-road alternative to the Storm model.
Both have many differences. Probably most notable here would be the price, with the Ultra being around $1300 cheaper than the Storm. The lower price, however, brings a lot of downgrades on many parts and components, such as the motor power, the battery capacity, the max speed, and even the max load.
However, the Ultra comes with much better tires for off-road adventures on rough terrains. Additionally, Dualtron have provided special heat sinks that cool the motor on the Ultra model, helping it keep a reliable temperature when challenged by rides on difficult grounds.
The Storm will easily survive the occasional dirt ride, but it's still primarily an urban scooter. The choice between the two will largely depend on what you want from your scooter. If you only plan to use it within city limits or on asphalt roads and streets, and don't plan on testing it up in the mountains, then the Dualtron Storm is definitely the way to go.
Who should buy the Dualtron Storm
The Dualtron Storm is a scooter made for experienced riders. It's fast, powerful, and truly fun, but warrants a competent driver that will use it properly at high speeds. This is one of the most powerful, best-looking, futuristic scooters ever made. It costs a lot, but offers anything we can imagine a scooter can offer.
This is easily one of the fastest, sturdiest scooters that can drive, climb and handle all kinds of terrain at all types of speed. It will definitely satisfy those who are tired of constantly charging their vehicle as well. The Storm has the capacity to go up to 80 mi / 129 km on just a single battery, and with the removable battery as an upgrade, the range is double that.
The price of the scooter is definitely on the premium side. In fact, this is one of the most expensive electric scooters currently available. Still, if you want one of the truly best electric scooters available in the world right now, and you can afford a product like this, then you will probably want to consider the Dualtron Storm.
Where to buy the Dualtron Storm from?
Worldwide
The best place by far to get the Dualtron Storm from is
Voromotors
. Not only will you buy from one of the most trusted electric scooter brands in the world, but by adding the 1-year Extend product protection and then using my coupon code
FreeExtend
at checkout, you will get 2 years of warranty for free! Still, make sure to check out other listings for this scooter, such as
USAMinimotors
, just to compare prices and make sure you are getting the best deal possible.
---
UK, Europe
In the UK and in some other European countries, it may be wise to see the
Ride And Glide
listing for the Dualtron Storm, as you will get free shipping for it, your scooter may arrive sooner, and you may end up paying less overall.
Dualtron Storm specifications
Dualtron Storm Specifications
| | |
| --- | --- |
| Top speed | 80.5 kmh |
| Top speed | 50 mph |
| Range | 128.7 km |
| Range | 80 mi |
| Motors | dual hub BLDC |
| Power | 3000 W real, 6640 W peak |
| Climb angle | 35 ° |
| Battery | 2268 Wh, 72 V |
| Battery type | removable LG 3500 |
| Charging time | 21 h |
| Weight | 46.2 kg |
| Weight | 102 lbs |
| Weight limit | 150 kg |
| Weight limit | 330 lbs |
| Tire size | 11 in |
| Tire type | pneumatic tubeless |
| Foldable | yes |
| Build material | aviation grade aluminum alloy + steel + plastic |
| Terrains | all terrains |
| Brakes | 160 mm hydraulic brakes |
| ABS | ABS |
| Shock absorbers | front + rear arm |
| Lights | stem lighting, dual LED headlight and taillight, brake light, turn signals |
| Control | EY3 LCD |
| Keys | fingerprint optional |
| Warranty | 2 years |
| Folded dimensions (L * W * H) | 121 cm * 31.8 cm * 60.5 cm |
| Folded dimensions (L * W * H) | 48 in * 13 in * 24 in |
| Unfolded dimensions (L * W * H) | 121 cm * 60 cm * 130 cm |
| Unfolded dimensions (L * W * H) | 48 in * 24 in * 51 in |
| Adjustable handlebar | yes |
---
Want to get cool tips, exclusive discounts and promotions, and unseen scooter hacks? Join
Scooter Secrets
.
---
Where to buy the Dualtron Storm