In this guide, we will check out the best fat tire electric scooters available on the market today for every need, use case, and budget you might have.
Best and fastest fat tire electric scooter overall – Winkine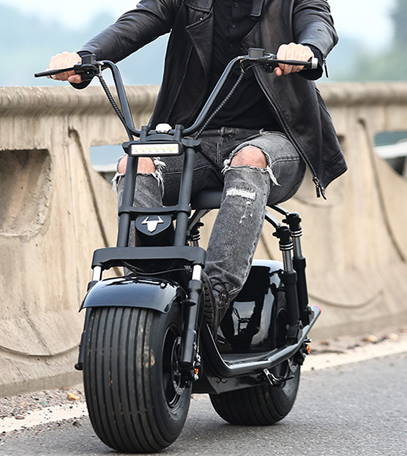 The competition for the best fat tire electric scooter is almost brutal, given the wide variety of high-quality options.
However, one model stands out from the crowd, as it manages to achieve a great balance between performance, quality, and good value for money.
That model is the Winkine.
This scooter has it all.
The top speed of 40 mph / 64 kmh is one of the fastest top speeds found in fat tire scooters. Naturally, its 2000 Watt brushless hub motor is one of the most power motors in fat tire scooters as well, so the scooter will not only be very fast, but it will also accelerate quickly, climb really well, and be capable of carrying weights of up to 440 lbs / 200 kg (which, btw, makes it the best electric scooter for heavy adults, too).
The brand behind this scooter is still not very well known. However, with the rising popularity of this scooter and the great reviews it manages to garner, I wouldn't be surprised if this brand became a more established name soon. The build quality of the scooter is somewhere around 9/10, and there have been very few complaints and negative reviews overall.
While the advertised range of this scooter is 50 mi / 80 km, that range has only been confirmed in a few owner tests, and some owners claim that the scooter can't achieve that much of range. Still, you will get somewhere close to the claimed range, and that's still among the top ranges that fat tire electric scooters have right now.
The battery of the scooter has 60 Volts and 1308 Watt-hours, and takes about 8 hours to charge. The battery is also removable.
The pneumatic tires of the scooter are 18 inches in diameter and 7.8 inches wide. The rides would be very smooth even without any additional suspension, but still, the Winkine comes with hydraulic suspension on both wheels that make the ride comfort amazing.
The dual brakes of the scooter are very good as well and provide a short stopping distance. Also, the scooter has an IP54 water resistance rating, which will be more than welcome for riding through some rain.
Simply put, the Winkine has it all. I doubt you'll be able to find a better fat tire scooter that checks all the boxes. You can check out the Winkine at Amazon.
Longest range fat tire electric scooter – Phatty G3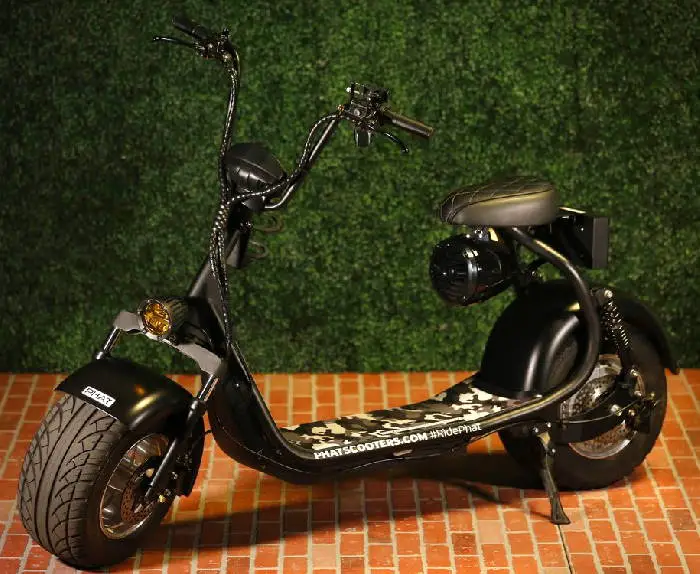 Compared to electric kick scooters, fat tire scooters don't seem to have a lot of range. Most of them have somewhere between 18 and 30 mi / 30 and 50 km of range.
The Phatty G3 is one of the very few exceptions here. It has a range of more than 50 mi / 80 km on a single battery charge, and even more importantly, that range has been proven in independent user tests.
Besides its long range, this scooter is also one of the best in terms of quality and attention to detail. It comes from Phat Scooters, a US-based brand that thoroughly tests every unit, and they stand behind their products fully with some of the longest warranties in the game – 2 whole years on the battery, which is pretty rare. The battery will take around 6 hours to charge fully.
Speaking of the battery, the reason why Phat Scooters are so confident it will last for years is that it is also of very solid quality. The battery is removable, and comes with a lot of smart battery management features and protections.
The motor of the scooter is another strong point. With a peak power level of 3000 Watts, this is one of the strongest motors in fat tire scooters, and even though the scooter is limited to only 20 mph / 32 kmh for legal reasons, its power still shines through in the form of excellent acceleration, very good climbing capabilities, and a weight limit of 440 lbs / 200 kg, which makes this scooter another great choice for heavy adults.
One of my personal favorite aspects of this scooter is its looks. The Phatty G3 has one of the toughest, coolest looks from all the fat tire scooters, but still maintains the appearance of a high-end product with excellent design and finishes.
The huge pneumatic tires make riding the scooter very pleasant, but there's also the additional shock absorption provided by the hydraulic system in the front and the springs in the rear that make the rides a dream.
Safety will not be a concern with this scooter either, as the fully hydraulic disk brakes will provide a very short stopping distance. The brakes have the regenerating braking feature as well.
The scooter will come with a lot of accessories, like the premium leather seat, an anti-theft system, phone and cup holders, mirrors, tons of lighting, and even an audio system! The scooter has no official water resistance rating, but some owners have mentioned riding through some rain with no problems.
Of course, the high level of reliability makes this scooter a bit on the pricier side. You may be able to find the scooter at different online stores, but I wouldn't recommend taking the risk with most of them, as you may get a knockoff version, and you should probably stick to the official Phat Scooters store.
Most waterproof fat tire electric scooter – Skooza K1S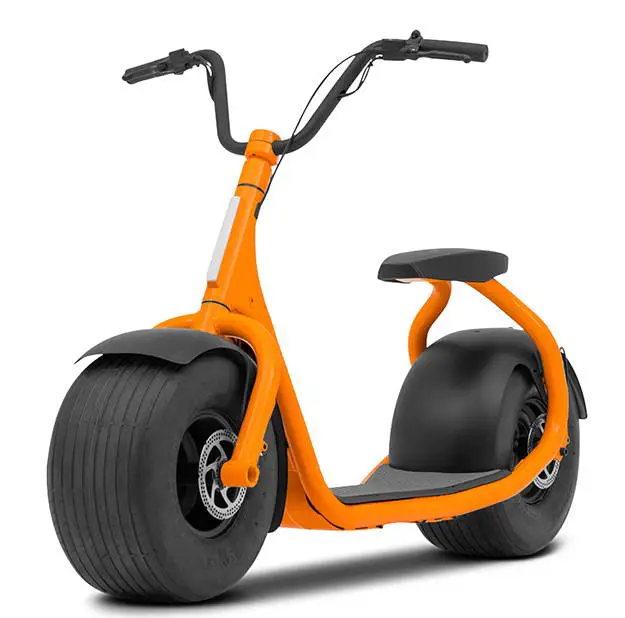 When it comes to resistance from water damage, most fat tire scooters either have none, or have the standard IP54 water resistance rating.
The Skooza K1S is the exception here. With an IPX6 water resistance rating, the Skooza K1S will be able to handle strong jets of water and not suffer any damage.
The IPX6 is the gold standard for water protection in scooters today. You should still avoid riding in the rain, but if you live somewhere rainy and you simply know you have no choice sometimes, this will be the best scooter for your needs.
If you've been only into electric scooters in general, you may have not heard about the Skooza brand. However, they are a very big deal in the fat tire scooter world, and their scooters are quickly gaining a lot of popularity, especially the K1S.
Besides its strong water protection, the scooter has a very clean and elegant design, and remarkable build quality overall. All of the individual parts are of the highest quality, and the scooter is also very well put together, so the final result is a premium scooter that will go years without a glitch. That's also the primary reason why this scooter will be on the expensive side, and will not be a good budget option.
The 48-Volt battery has a capacity of 1500 Watt-hours, and will provide you with a range of 56.3 km / 35 mi. And when it comes to fat tire scooters, that's actually quite a lot of range, certainly in the top half.
The BLDC hub motor has a real power level of 1200 Watts and a peak power level of 1500 Watts, enabling the scooter to go as fast as 28 mph / 45 kmh. That's also a lot of speed for a fat tire scooter.
There's also the climb angle of 17 degrees and the weight limit of 400 lbs 181 kg, and all of that makes this scooter not just a great pick for rainy locations, but a very strong performance option, too.
With a diameter of 18 inches, and a very wide base, the scooter's tire provide both excellent shock absorption and control. The scooter comes with dual brakes on both wheels, but it has no suspension other than what the wheels provide.
See the Skooza K1S at their official store if you're curious about this scooter.
Best off-road fat tire electric scooter – Mototec Mad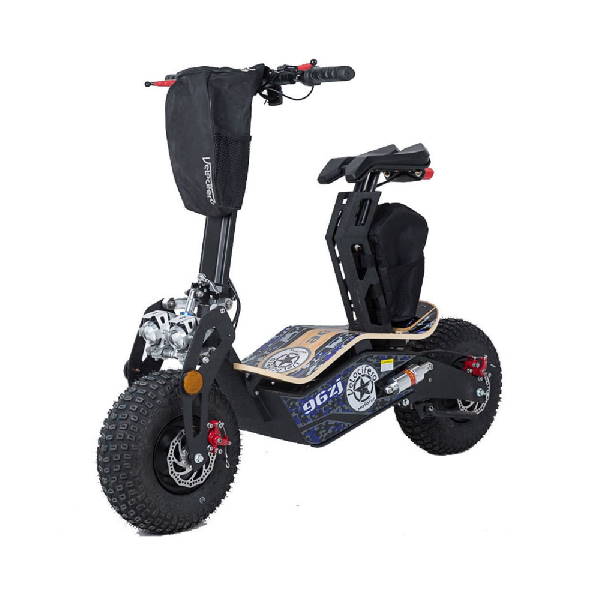 On the surface, it may sound like fat tire scooters would all be great for off-roading. After all, they have those large fat tires, and those should be enough to handle every dirt trail and rough patch of land, right?
But the limiting factor almost all fat tire scooters have when it comes to off-road riding is their low deck clearance, coupled with their long base. While most fat tire scooters should be able to handle some rough terrain rides on flatter terrains with ease, things will quickly get tricky when we're talking about true rough terrains with lots of bumps and holes.
That's where the Mototec Mad comes in.
One look at this scooter is enough to realize what we're talking about. Not only does it have a taller base, but it's also built like a bulldozer, looks so strong it's almost frightening, and, of course, the tires practically scream off-road. There's also the suspension system on both wheels, with a single fork in the front and a dual one in the rear, that will make tackling rough terrains even easier, as well as the dual disk braking system that provides pretty good safety overall.
This bad boy is mostly made from steel, which makes it heavier than aluminum scooters, but also makes it a lot tougher and more reliable.
The 48 Volt, 576 Watt-hour battery gives this scooter a range of up to 25 mi / 40 km in optimal conditions. This is one of the scooters that still use the older lead-acid battery technology, and those batteries take longer to charge (up to 8 hours), are heavier than lithium batteries. Still, the weight of the scooter is 110 lbs / 50 kg, which is within the normal range for fat tire scooters. Plus, unlike most fat tire scooters, the Mototec Mad is foldable, which definitely saves a few portability points.
The motor of this scooter is not its strongest point, in my opinion. Same as the battery, the motor uses older technology (chain drive), and while the motor has quite a large power output of 1600 Watts, chain and gear systems are usually more prone to defects. The scooter will still have 21 Nm of torque, however, and both climbing and weight capacity will not be an issue.
The scooter's recommended age is 13+, and it is frequently bought for children, but with a weight capacity of 310 lbs / 140 kg, it can support most adults as well.
The scooter comes from the Wisconsin-based brand Mototec. They have a wide variety of other vehicles, including gas-powered ones, and large toy vehicles for children, and also, a few other fat tire electric scooters as well. Still, when it comes to off-road rides, the Mototec Mad is their best option by far, and one of the best options on the market in general. You can find the Mototec Mad at Walmart, often for a very good value price of around $1100.
Best lightweight, most modern fat tire electric scooter – Scooterson Rolley+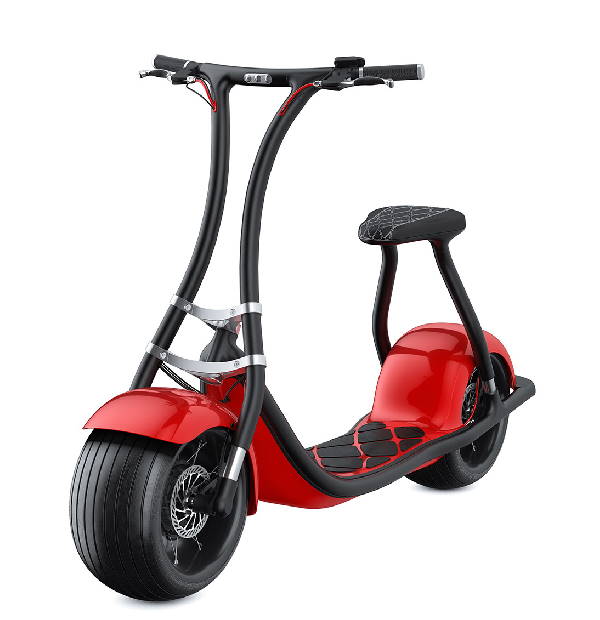 Most fat tire electric scooters are far from lightweight and portable. Pretty much every single one of them weighs well over 100 lbs / 45 kg.
The Scooterson Rolley+ is the only exception to this rule. With 68 lbs / 31 kg of weight, it's far from a lightweight option as well when compared to regular electric scooters, but in the fat tire world, it is a featherweight. Its light weight is mostly due to its carbon-reinforced polymer body, and the scooter only sparingly uses heavier metals in its build, the aluminum chassis being the most notable exception.
The Scooterson Rolley+ started as a very successful IndieGoGo project that managed to reach its backing goals in a matter of days. The scooter is still available for pre-order there, and you can be one of the first owners when it gets released if you reserve your spot on time.
Since this scooter is not yet available in the real world and probably no real owners have tried it out, we only have limited information about it.
It will come with a 750 Watt motor that will enable the scooter to move as fast as 15.5 mph / 25 kmh. There is a deliberate limitation on the speed so that the scooter complies with all the traffic laws worldwide.
The scooter will have a range of 30 mi / 48 km on a single charge, powered by a 43 Volt battery with a lifespan of around 3 years. The battery can be charged in under an hour with the fast charger, and it can also be easily removed and replaced with a spare.
Besides its light weight, what makes the Scooterson Rolley+ stand out is its beautiful design. The scooter is one of the very few models in the entire scooter world that successfully pulls off the smooth, curved, elegant look, and with almost no sharp edges, the scooter emanates a very elegant, refined vibe.
The quality level of the scooter will probably be very high, as the first few units will have to pave the road for the brand and deliver on their promise. The scooter will come with a very good water protection rating of IP65, but also a ton of other very innovative features, including:
a mobile phone app
quick-release phone holder
NFC card for locking and unlocking
anti-theft system
"find my scooter" features
low battery notifications
And, finally, this is probably the only scooter in the world right now that can actually earn you some money! You can rent your scooter to people through the app, and charge them by the day, hour, or minute!
Besides all of its James Bond features, the design team also didn't skimp on the essentials, and the scooter comes with high-precision hydraulic braking system, and proprietary fat tires for increased control. In fact, the scooter's balance is so good, that it doesn't even require a kickstand and it can stand on its own!
The first batch will likely only have 20 units, and you can still reserve yours at Indiegogo.
Best fat tire electric scooter for climbing – SEEV-800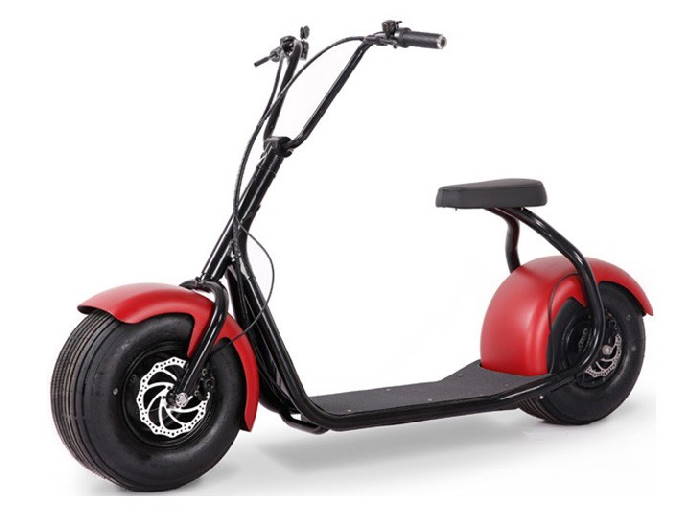 The SEEV-800 is one of the most famous, most celebrated fat tire electric scooters in the world right now.
It comes from the Californian power sports brand SSR, which is also the official distributor of Benelli vehicles for the US. They have been manufacturing all types of on-road, off-road, and electric vehicles since 2002.
Its biggest advantage is its climb angle of 18 degrees, which is the best climb angle out of all the fat tire scooters currently available.
Other advantages of the scooter are its solid design and decent build quality. At the same time, the scooter is not priced as a premium model and can probably be placed in the mid-range price category.
The scooter has a range of 40 mi / 64 km on a single battery charge, powered by a 60 Volt, 720 Watt-hour lithium-ion battery with a lifespan of 5 years. The battery of this scooter is particularly fascinating, as it only adds about 10 lbs / 5 kg of weight to the scooter, while giving it quite a lot of range at the same time.
With a top speed of 20 mph / 32 kmh, and a hub motor of 800 Watts, the scooter's power levels are pretty standard and will be well within the allowed speed limits in most places.
The scooter comes with 18-inch straight-grain tubeless pneumatic tires, with a diameter of 9.5 inches, and hydraulic Dyisland brakes in both wheels (180 mm rotors in the front, 160 mm in the rear). There is no additional shock absorption with this scooter, but with 18-inch tires, the rides will still be very smooth.
All in all, the SEEV-800 has a lot going for itself. It is almost certainly the best fat tire electric scooter overall. You can check out the SEEV-800 at Amazon.
Most popular fat tire electric scooter – Mototec Fat Boy 500W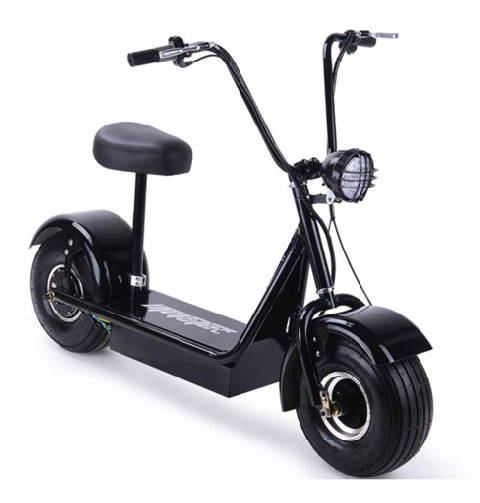 Sometimes it pays off to go with the crowd, and that's especially true with a technology that's relatively new but still tried and tested by a lot of people, which is the case for electric scooters.
When it comes to fat tire electric scooters, Mototec is one of the most popular brands, which is also evident by the presence of another one of their models on this list. Also, the Mototec Fat Boy is one of the most well-received fat tire electric scooters overall, and this model strikes that delicate balance between a great price, solid quality, and good performance, which is almost a prerequisite for a scooter achieving great popularity.
There are several variants of the Mototec Fat Boy 500 Watt motor one is the most commercially successful one. A 500 Watt motor usually provides the exact type of performance that regular scooterists expect, and that's the case with this scooter as well – up to 25 mph / 40 kmh top speed, 250 lbs / 113 kg of weight limit, 10 degrees of climb angle, good torque, good acceleration, the complete package.
The range might vary with this scooter, as users report all types of different ranges anywhere from 12 mi / 19 km all the way up to 25 mi / 40 km on a single battery charge. The 48 Volt battery may take up to 8 hours to get charged fully.
This may come as a surprise to some, but the build quality of this scooter is actually very good, much better than what its price might suggest! The positive ratings and reviews of this scooter very often confirm this.
The tire diameter is 15 inches, while the width is 6 inches. The tires are air-filled and provide a comfortable ride, so the scooter doesn't really need any additional suspension. The scooter also has two disk brakes, one on each wheel, a strong LED headlight, a pretty comfortable seat, and a solid steel frame, all of which make the scooter very safe and reliable.
All in all, the Mototec Fat Boy is a feature-complete fat tire electric scooter that usually costs around $650, but comes with the performance and the quality level of scooters twice its price. You can find the Mototec Fat Boy at Walmart.
Best designed and best concept fat tire electric scooter – Stator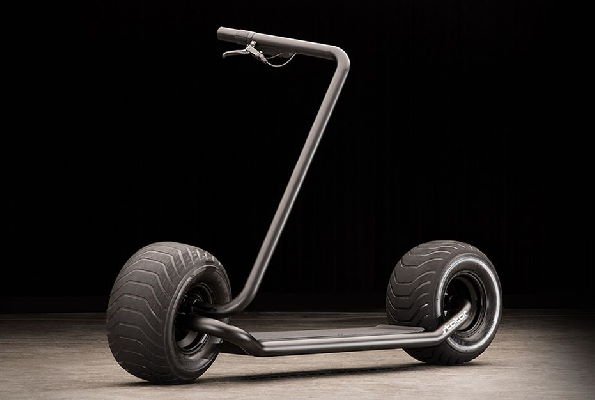 The Stator is a very unique scooter.
Since it doesn't have a seat, an argument can be made that it doesn't really belong on this list, as fat tire scooters usually have a comfortable seat and they can be ridden almost as they were motorcycles.
But at the same time, the tires of the Stator are so wide, that it doesn't really make sense to label it a regular electric kick scooter.
So we might say that it's a fat tire scooter, but without a seat. And that has proven to be a very eye-catching combination so far.
The Stator looks stunning, at least in my opinion. The handlebar is just one single bar, and riding the scooter is an experience in its own league. There is not one single scooter that even looks similar to this original model. In fact, since the Stator is so unique, learning how to ride it properly (which is, by using your entire body), may have a slight learning curve.
Make no mistake here – all eyes will be on you if you ride down the street on this thing.
However, the Stator is much more than looks only. With a theoretical range of 50 mi / 80 km, and probably a longer one if you ride at a slower speed, this is one of the longest-range fat tire electric scooters ever made. The lithium-ion 0X 21700 battery of this spaceship has 120 Volts, and yet, it takes just 4 hours to charge with the fast charger.
The 1000 Watt motor is put to very good use, and the scooter can reach a top speed of 30 mph / 48 kmh. The hub motor is integrated into the wheel, and since the wheel has blades, both the motor and the brakes will have much more efficient performance because of the cooling effect. Other performance aspects of the Stator, including acceleration and climbing, will also be well above the average for fat tire scooters.
And, of course, the build quality will be out of this world as well. This is definitely one of the best-engineered electric scooters ever made, and it will probably last you for years, maybe even decades, without as much as a beep. There is no official water resistance rating for the Stator, but judging from its appearance and from the testimonials of owners, the scooter shouldn't have too much difficulty in rainy weather (of course, do your best to avoid riding in wet conditions as much as you can).
The scooter weighs around 115 lbs / 52 kg, so carrying it will be a problem, but unlike most fat-tire scooters, the Stator actually folds at the stem, so that will improve portability at least a little.
The pneumatic tires are 18 inches in diameter, and 7.8 inches in width, which makes them one of the largest tires even in the fat tire scooter category. Obviously, the need for additional shock absorbers will be minimal to non-existent. The state-of-the-art braking system, designed in Germany, is also one of the proudest crown jewels of this scooter.
There's no doubt about it – the Stator is the coolest-looking, best-designed, best-executed fat tire electric scooter on the market today. The scooter is still not commercially available, but you can reserve a unit for a down payment of $250. The Stator will probably cost $3995.
Best high-end fat tire electric scooter – Scrooser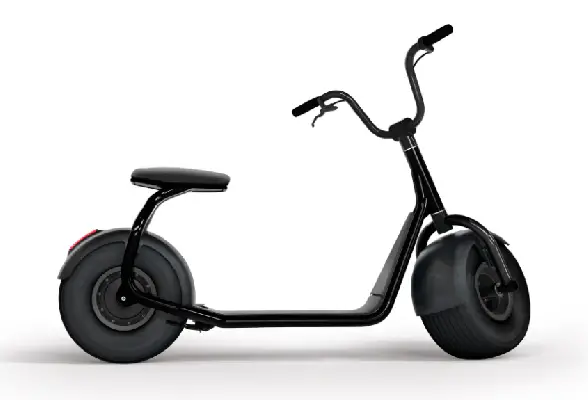 If you've ever seen Batman: The Dark Knight, you may be wondering the same thing that I am – why isn't Batman's bike a real thing yet?
Until that amazing piece of machinery becomes a reality, the Scrooser will remain the next best thing.
The Scrooser is arguably the best premium fat tire electric scooter. It will typically cost somewhere between $3500 and $4000, and while there are a few other fat tire scooters that are even more expensive than that, the Scrooser is probably the most well-balanced one in terms of price, quality, and performance.
A lot of fellow scooter enthusiasts have called the Scrooser one of the very true masterpieces in the scooter world. The Scrooser is also very popular and well-received, especially in Europe and Germany in particular, which is the country it hails from. The typical German attention to detail and obsession with quality is visible in every line and every detail of the scooter.
One of the major disadvantages of this scooter, at least in my opinion, is its top speed of 15.5 mph / 25 kmh. Some believe that the scooter's top speed is purposefully limited so that it complies with traffic laws worldwide. From my own personal experience, I'm not sure that's the case here, since the scooter's motor only has 500 Watts of power (even though it can generate torque of up to 43 Nm). For close to $4000, it would be great if the scooter could go faster and have a bit more juice in the motor.
The range of the Scrooser is a somewhat different story. The scooter can go 28 mi / 45 km on a single battery charge, powered by a 36 Volt battery with a capacity of 720 Watt-hours. That kind of range is not so bad for a fat tire scooter, so the performance of the Scrooser is not really that bad. Charging the scooter takes 4 hours.
Another strong performance aspect of the Scrooser is the weight limit. The scooter can carry up to 375 lbs / 170 kg of weight on its deck, and it will be an excellent pick for heavier adults.
The pneumatic tires of the Scrooser are probably its strongest weapon. With a diameter of 18 inches, and almost 10 inches in width, these are the largest, fattest tires in an electric scooter, and you can be certain that they will provide a buttery-smooth ride. As with most fat tire scooters with giant wheels, the Scrooser barely needs any additional suspension.
The brakes are another strong point of the Scrooser. The hydraulic front 180 mm brake and the rear disk brake are a great combination and make the Scrooser very safe.
In summary, the Scrooser's main focus is comfort, durability, and quality, and performance takes a back seat. Defect rates with this scooter are also extremely low, and if that's the kind of scooter you're after, you can check out the Scrooser at the official store.
Best budget fat tire electric scooter – Say Yeah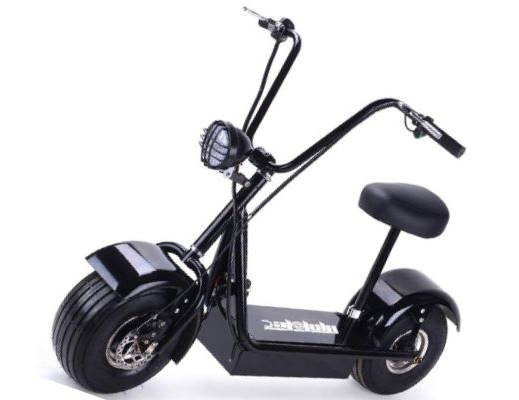 When it comes to fat tire scooters, there are quite a few options available in the budget price category. The competition is not exactly as stiff as it is in the regular electric scooter category, but it's still serious.
The best budget fat tire scooter currently is Say Yeah.
Before we go on, you should be aware that this scooter is primarily advertised as a children's scooter, but it has a large weight limit, fairly standard handlebar height, and so many adults use it, that we can easily say it's almost a regular scooter for adults.
Priced at just $799, this is one of the cheapest fat tire scooters available in North America. For that sum, you will get a pretty solid scooter, obviously not the best one out there but still a fairly good option considering the price you pay.
It should come as no surprise that the Say Yeah scooter is not exactly the strongest performing scooter out there, although it's far from disappointing.
While the motor itself is actually quite powerful with 800 Watts of peak power, the scooter's top speed is limited to 22 mph / 35.4 kmh. The scooter's official climb angle is 10 degrees, which is actually not too bad, and several independent owner tests have confirmed this climb angle. The weight limit of 250 lbs / 113 kg is also better than the average, but it may fail to cater to some heavier adults.
The range of the scooter is also ok but nothing to write home about. With 18 mi / 29 km of total range, the scooter will easily get you anywhere you need to go, but it will be far from a long-range option. The battery has 48 Volts and takes about 6 hours to get fully charged.
As with most other aspects of the Say Yeah, the build quality is pretty decent, but also not excellent. The scooter's defect rates are generally low, but there have been a few reports of potential defects even less than a month after the purchase. The scooter doesn't have an official IP rating against water protection.
The pneumatic tires of the scooter, with a 15-inch diameter, are probably one of the strongest sides of this scooter. On top of that, the scooter has a dual suspension system on both the front and the rear wheel, as well as dual brakes disk brakes with large rotors, and these parts are what gives this scooter a lot of its value.
If you're on a limited budget (under $1000), this scooter will definitely end up on your shortlist. You can check out the Say Yeah on Amazon if you're interested.
Best budget fat tire alternative – Citycoco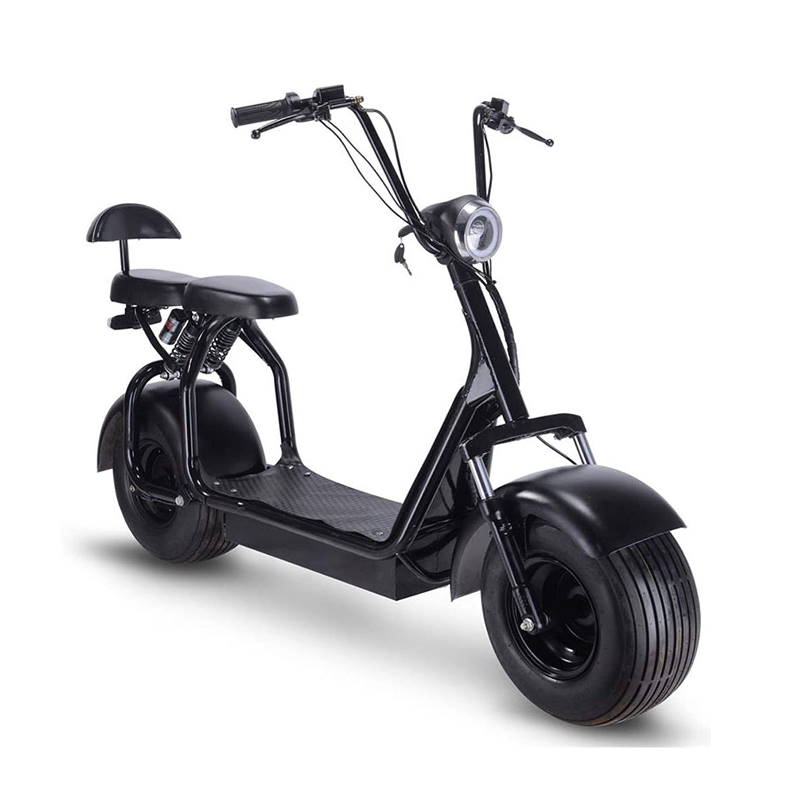 If, for some reason, you've gone through this entire list and you still haven't found the right scooter, you may want to take one final look at the Citycoco.
Citycoco is originally a Turkish brand, which is somewhat interesting to see, as I can't recall any other Turkish scooter brand, and also there are not that many brands outside of the US and China anyway. There are several Citycoco models available, but the 48 V 500 W model is the most popular.
The original models are somewhat harder to get as they are often out of stock, the delivery will take a lot of time, and, somewhat embarassingly, the official website happens to be down quite often. That's why the version on Amazon will be a much more viable option for most people.
The Citycoco falls into the category of jack-of-all-trades models, as it doesn't exactly shine in one particular area per se, but it's a well balanced and affordable model that performs decently and has a good quality level, so it can serve as a catch-all choice for budget shoppers that could be hesitant about the other models.
This scooter will also be great on a budget, and in fact it could challenge the Say Yeah as the best budget model overall.
The tires of the scooter are quite wide, although at 10 inches in diameter, they are not that big. That's the main reason why the scooter comes with dual spring shock absorbers on the rear wheel, that help make the ride much more comfortable.
The performance of the Citycoco 48V is good, but not great. The scooter has 500 Watts of power that give it a top speed of 20 mph / 32 kmh, a weight limit of 220 lbs / 100 kg, and a climb angle of 15 degree (probably the strongest performance point of the scooter).
In terms of range, the scooter's output is also average, and the maximum range is 16 mi / 25.8 km. As the model name suggests, the scooter's battery has 48 Volts, around 500 Watt-hours of capacity, and takes around 8 hours to fully charge, which is also kind of ok but not too great.
The scooter does earn some points for its build quality. Again, we can't expect any miracles here, as this will still be a budget scooter, but the overall quality will be pretty good for the price, the steel alloy will give you a lot of stability, the dual disk brakes will provide a lot of safety, and so owning this scooter might prove to be a pleasant experience.
You can find the Citycoco by Toxozers on Amazon.
What is considered a fat tire scooter?
The exact tire width when an electric scooter stops being a regular one and starts being a fat tire electric scooter is not exactly known, but it's somewhere around 6 inches. Scooters with tire widths of up to 4 inches are clearly regular tire electric scooters, while scooters with tire widths of 6 inches and above are already considered fat tire scooters.
Fat tire vs regular tire electric scooters
The main tradeoffs with fat tire electric scooters involve balance, control, cornering, traction, and efficiency.
In general, fat tire scooters will always have much better balance and better control overall thanks to the wider wheels. Also, they will usually have better traction because of that.
However, the wider wheels will also not make the best use of the battery power, and that's why fat tire scooters often have smaller ranges. Also, the wide tires make turning and cornering more difficult as well.
Summary
Those were all the best fat tire electric scooters available today. The table below summarizes them one more time for reference.
---
---